English Literature BA(Hons) student Emily Duke's 'Letter to an Unknown Soldier' has been featured on the project's website. Contributors were asked to write a personal letter to the unknown soldier who stands on the famous war memorial on Platform One of Paddington Station in London as part of this year's World War One centenary commemoration.
University of Brighton students were encouraged to get involved in the project by artist, director and performer Neil Bartlett OBE (who was awarded an honorary doctorate by the university last year) who gave the the opportunity to be published in the online collection.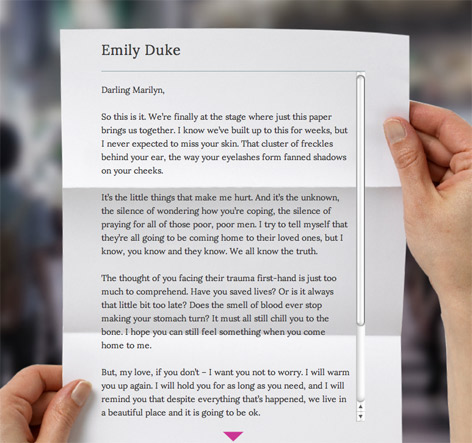 Image: How Emily's letter appears online.
Neil said: "Dressed in full trench uniform, the soldier is reading a letter from home. The statue was erected in 1922 by the Great Western Railway Company in honour of the hundreds of company employees who had been killed in the war. We've invited people to take a leap of imagination across one hundred years, and to write the letter that the soldier is reading. There is no indication of who the letter that he has just started reading is from, nor its contents. Some people think that the soldier is smiling as he reads; others disagree."
Neil and collaborator, novelist Kate Pullinger, have been working on the project as part of the £10m Lottery-funded 14-18 NOW scheme that has seen leading artists from around the world respond to the WW1 centenary, as part of the UK's official centenary programme.
Their work creates a space where people think about what remembering a war might mean and invites the whole country to be part of a large-scale alternative to the more official forms of commemoration.
Fifty well-known British writers have written letters and are now published on the project's website, along with the first wave of letters from members of the public. The website will remain open from June 28 when Franz Ferdinand was assassinated, triggering WW1, to August 4 when Britain announced it was at war.
Neil said: "All of the letters collected and published online create a multitude of private voices, combining to create a public record of what this country thinks and feels about war."
Media coverage to commemorate centenary of outbreak of the first world war.