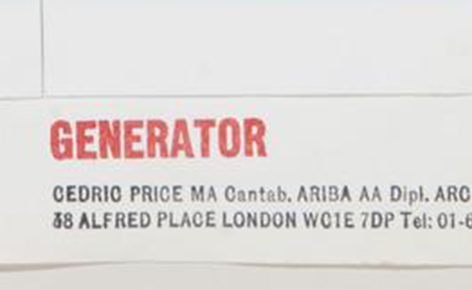 Ben Sweeting, Senior Lecturer in Architecture at the University of Brighton, has been selected as one of six participants in a new research project at the Canadian Centre for Architecture (CCA) funded by the Andrew W. Mellon Foundation: 1945-1975: British Culture for Architecture.

The project, which has in part been inspired by the CCA's extensive Cedric Price archive, will explore relations between architecture and culture in post-war Britain. The first stage of the project was a working seminar with 12 participants selected from an open international call, which was held at the CCA in Montreal on 23-24 May 2014. This explored various topics through presentations and discussions in order to frame the main stage of the project. Following this, six researchers were selected for the main stage of the 18-month research programme.

Sweeting's contribution to the working seminar explored relations between cybernetics and architecture during this period and particularly the work of cybernetician Gordon Pask, who collaborated with both Price and Nicholas Negroponte in architecture. Focusing on Pask's 1950s Musicolour installation and its influence on Price's Generator and Negroponte's Architecture Machine, Sweeting argued for the continuing relevance of Pask's work given recent developments in computing and interactivity while reflecting on the ambiguous relationship with technology which is characteristic of both cybernetics and Price's architecture.