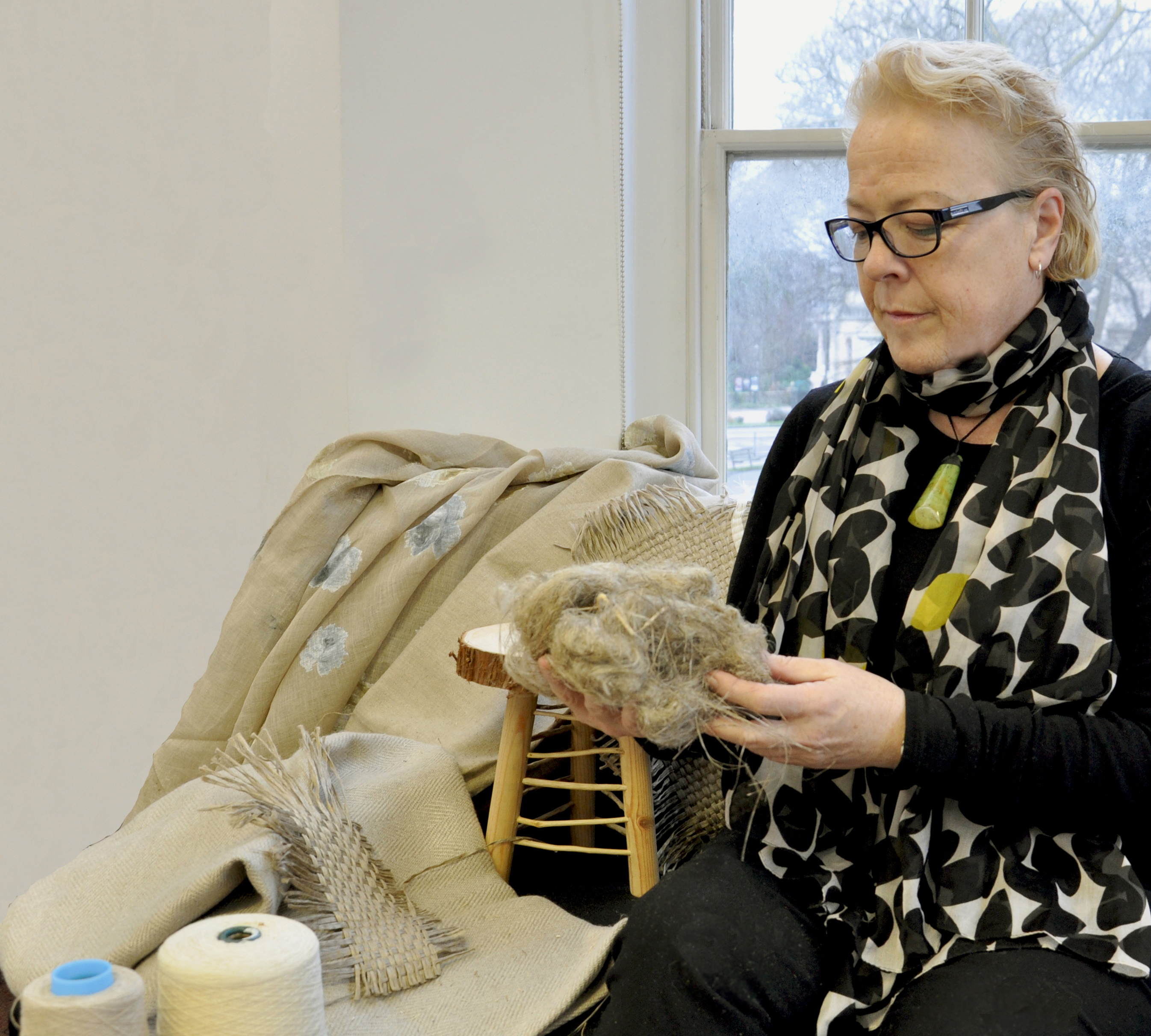 An interdisciplinary team that includes researchers at the University of Brighton Faculty of Arts have been developing fabrics that can kill bacteria.
Design and materials researcher, Dr Joan Farrer, together with Dr Jüri Kermik, Toni Hicks, Dr Patrick Dyer, Lila Yip and undergraduate students from Design, Fashion and Textiles have been participating in the research project which is led by Professor Sergey Mikhalovski and researchers from the university's School of Pharmacy and Biomolecular Sciences.
The research is part of the INTERREG 'FLAX – Increasing Its Value for Society project' which held a closing event earlier this week in Rouen, France attended by all UK and French partners where a synopsis of the multi-faceted research was presented. This project is closely connected to the larger INTERREG 'Building Research & Innovation Deals for Green Economy' (BRIDGE) project.
One of the significant outcomes of the research was development of flax fibres to help fight infections. When treated with special light-sensitive dyes and exposed to red light, the fibres have been found to kill bacteria with high efficiency. The approach could reduce contamination on bed linen and patients' clothes from bacteria including MRSA, which poses a high infection risk in hospitals because of its antibiotic resistance.
The secret with flax lies in its fibres, which absorb some light-sensitive dyes with a greater capacity than the most commonly used material, cotton. After stimulation with red light, the dyes produce reactive oxygen species (ROS) that kill bacteria.
ROS, which are chemically-reactive molecules containing oxygen, attack bacteria by several mechanisms which means bacteria is less likely to develop resistance to this treatment, unlike antibiotics.
Dr Iain Allan, senior research fellow at the University of Brighton, said: "Using flax with absorbed reactive dye could benefit patient care in hospitals which have ambient red light installed and this could reduce the microbial burden on linen and clothes.
"Infections resistant to antibiotics are a big problem in patient care and will become an even bigger problem in the future, so we have to look for alternative approaches as soon as possible."
The flax research is a £2.1 million European Union-funded four-year project, which ends in June this year. The bid for funding which It was selected in the context of the INTERREG IV A France (Channel) – England European cross-border co-operation programme, which is co-financed by the European Regional Development Fund.
Leading the project is Sergey Mikhalovsky, Professor of Materials Chemistry at the University of Brighton's School of Pharmacy and Biomolecular Sciences. He is working in collaboration with Rouen and LeHavre universities in France, the French research institution CNRS and LBN, a company which produces flax.
A wide variety of possible uses for flax has led to collaboration with other University of Brighton schools at the Faculty of Science and Engineering and the Faculty of Arts led by Dr Joan Farrer who led the funding bid from INTERREG. More than 50 students from the different schools chose research in flax materials.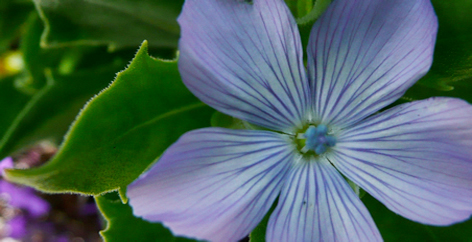 Image: Flower of the Flax plant
Flax is one of the first fibres used by man – evidence found in a cave in the Republic of Georgia in 2009 showed the plant was in use by humans 30,000 B.C.
Flax thrives well and sustainably in the UK and Europe and it has been economically important for centuries for its versatility in strength, variety of quality, application for buildings, fabrics, materials, medical applications and food. It comes in a range of natural colours, takes dyes well and can be made into a myriad of materials and products.
The aim of the research project is to increase the production value of flax through exploring its potential use in biomedical applications, as a foodstuff and as a biodegradable material for packaging, including food packaging.
Professor Mikhalovsky said: "The research and the products to be developed are highly innovative and are expected to outperform existing products available in the market.
"Project teams are looking at innovative ways to minimise waste production and reduce carbon footprint in the production of flax-based products, which implies that the raw and end materials (fibres, seeds, seed mucilage and natural flax composite) are free of any chemical additive and/or are not submitted to any chemical treatment.
Image: Flax fibres in production
"Flax fibre is an attractive material: it is mechanically strong, biodegradable and produced from a renewable resource. Flax seeds have a high percentage of omega-3 and other poly-unsaturated fats, and they contain lignans, biomolecules with phytoestrogen and anti-oxidative activity, which make them highly beneficial to health.
"At present, applications of flax are fairly limited, mostly because alternative natural fibres such as cotton, silk and jute, imported from overseas, and synthetic fibres are used.
"Flax fibre accounts for only 0.7 per cent of the world's fibre production. However, concerns for environmental pollution have imposed significant pressure on industry and society as a whole to reduce environmental impact of human activity and minimise waste generation in all types of activities, including production and use of materials.
"It is also expected that the use of advanced composite materials and flax seed food, based on locally grown flax, will make a substantial contribution towards solving this problem."
Top Image: Dr Joan Farrer with some examples of flax fibre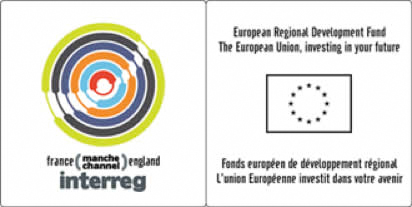 Interreg France-England IVA Programme, Lin/Flax, Grant No. 4044