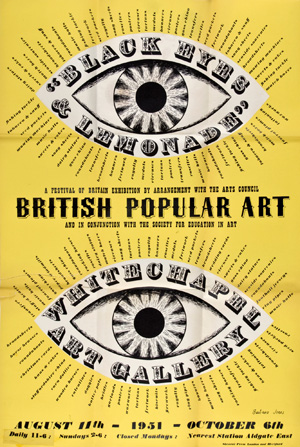 Design scholarship from the faculty informs the latest exhibition at London's Whitechapel Gallery. It explores the work of Barbara Jones (1912-1978), the English artist who celebrated the creativity and popular appeal of fairground and canal boat decoration, tattoos, waxworks, cake decoration and firework packaging. Barbara Jones' archive is held at the university and the current exhibition is held in the context of Jones' own 1951 exhibition 'Black Eyes & Lemonade'.
Barbara Jones original radical exhibition of British popular and traditional art took place at the Whitechapel Gallery in the summer of 1951. Revisiting the venue as a context for the 2013 exhibition, the new project includes a selection of the original exhibits along with other material from the University of Brighton's Design Archives, the Vogue Archives and the Whitechapel Gallery Archive, as well as installation views and ephemera from Jones's Hampstead studio. The exhibition highlights Jones's innovative curatorial approach to popular art, and the connections she was able to draw across images and objects.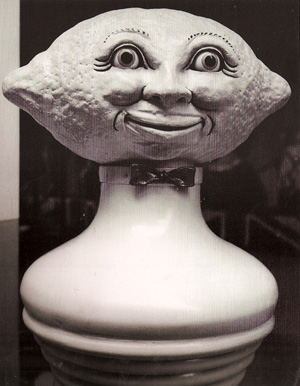 Re-examining Black Eyes and Lemonade over half a century after it was originally staged, the exhibition provokes debate about the presentation and curation of popular art.
Already attracting considerable attention, the exhibition was included in The Times 'What the critics would pay to see' feature, and has been reviewed in the design journal Blueprint: "Not only relevant as an archival restaging, the exhibition puts forward important questions about the curation of art and the curator's response to galleries and commissioning bodies."
The Design Archives have organized a study day with the Whitechapel Gallery to be held on 14 June. It includes presentations by Dr Louise Purbrick (SHACS) and AHRC Collaborative Doctoral student, Liz Farrelly, and will consider how the popular, traditional and folk arts are displayed in both historic and contemporary museum and gallery contexts. What relation do they have to the fine arts? What are the challenges and opportunities in arranging and presenting them?

The project looks afresh at Jones' innovative exhibition, considering particularly her curatorial strategy and the connections she established across images, objects and text. Relating curatorial activity to writing and drawing projects, and understanding all these as mechanisms of arrangement, is a new approach to Jones' work.
The exhibition is accompanied by an essay written by Catherine Moriarty, Drawing, writing and curating: Barbara Jones and the art of arrangement. It is available free of charge to exhibition visitors.

For more information go to Faculty of Arts Black Eyes Exhibition and Whitechapel Gallery


First Image: Detail of Black Eyes & Lemonade, British Popular Art Whitechapel Art Gallery Poster 1951. Design by Barbara Jones, print by Shenval Press. Courtesy Whitechapel Gallery. Whitechapel Gallery Archive.
Second Image: Detail of installation view of Idris talking lemon. Black Eyes and Lemonade 1951. Courtesy Whitechapel Gallery. Whitechapel Gallery Archive.