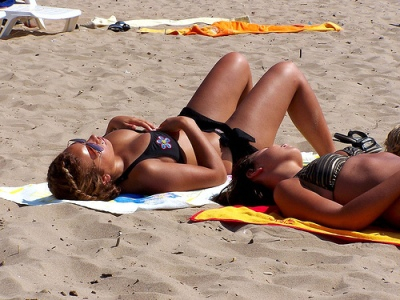 A project to help reduce the risks of developing skins cancers has taken a further step forward, following the formation of a new collaboration with the Bulgarian Academy of Sciences Institute of Astronomy. The Bulgarian collaboration will provide facilities for the prototype development of UV sensors for materials testing for the Barrier Solutions project headed by Dr Joan Farrer of the University of Brighton Faculty of Arts.
The Barrier Solutions project is pioneering cross-disciplinary and inter-institutional research to develop materials aimed at providing an early warning of over exposure, thus reducing the development of skin cancers.
The team is composed of experts in design and materials, Smart textiles, fashion, Human Computer Interaction, cancer and wellbeing and aims to create desirable clothing made of protective 'smart' textiles incorporating fibres that interact with computer intelligence and digital communication to provide 'early warning systems' of over-exposure to the sun.
The business-orientated research, sponsored by Santander Bank, is a proof of concept project, led by Dr Joan Farrer, Reader in Design and Materials at the School of Architecture and Design. Farrer previously worked with the Cancer Society New Zealand when she was Director of the Universities Textiles and Design Research Lab and Associate Professor of Fashion and Textile Design at Auckland University of Technology. Collaborators in the research include Heriot Watt University, Imperial College, Cancer Research organisations and testing labs in the UK and the Antipodes.
The research draws together the key industries of leisure, health, fashion and computing and is informed by Dr Farrer's research and development, consumer analysis and data collected in the Antipodes. The ecological and social conditions in the Southern hemisphere contribute to a more 'out-of-doors' lifestyle, and this has resulted in an alarming increase in skin cancer rates in recent years, where the most vulnerable group are males between the age of 15 and 25. Since 1975, fair-skinned northern Europeans have also seen huge increases in cancer diagnosis due to climactic conditions, coupled with more holidaying in warmer climates such as the Mediterranean.
The current research funding of £15k, will enable experimental fashion, textiles and computer prototyping to take place, travel to collaborators overseas and 'beach testing' of the prototypes in Brighton this summer.
The tests will take account of the broad range of ages and occupations of Brighton & Hove's population, from students, to retired residents, with the potential of a wide range of intergenerational sun protection markets in mind.
The Barrier Solutions melanoma prevention project is an example of 'live' practice-led research currently underway in the Faculty of Arts and has been taken up by undergraduate Fashion, Textile and Graphic design students, led by principal lecturers Malcolm Mcinnes and Andy Haslam.
Farrer and her collaborators are now developing a larger European Union bid to continue the work.