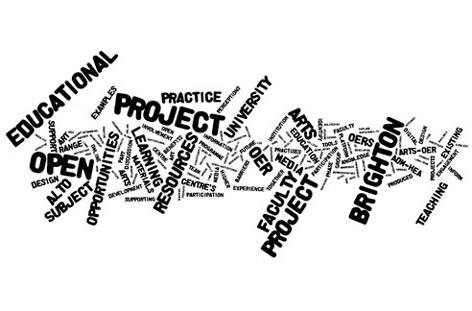 A team at the University of Brighton Faculty of Arts are working on a project to develop the potential of open educational resources (OERs) and open educational practices in art, design and media subjects.
OERs are defined as teaching and learning materials freely available online for teachers, students, or self-learners to use. Examples include full courses, modules and lectures.
The ARTS-OER project aims to:
initiate and draw together discussion around open educational resources and practice in the faculty;
develop understandings of art, design and media OERs; motivations for, and barriers to, their creation and use that can inform faculty approaches to open educational practice;
identify existing examples of open educational practice and provide opportunities to trial a national platform of arts, teaching and learning resources.

The expected outcome is a strategy for the development of open educational practice in the faculty with benefits including opportunities to showcase teaching and learning resources produced by staff and students, opportunities for cross and inter-institutional collaboration, and the development of a growing and sustainable collection of learning resources and digital assets.
The long-term rewards of participation in the project are a development of the faculty's online profile and networking capacity, providing further opportunities in bolstering student engagement and future recruitment.
The project team consists of Sarah Atkinson, principal lecturer in Broadcast Media, Adam Bailey, learning technology adviser, Debbie Flint, academic developer at the Art, Design and Media Subject Centre and project manager Stephen Mallinder.
The ARTS-OER Brighton project forms part of the Higher Education Academy/JISC funded OER Phase 3 programme as a supporting partner in the ALTO-UK project (Arts Learning and Teaching Online).
To learn more about the project please visit the project webpage: http://arts.brighton.ac.uk/projects/arts-oer-brighton