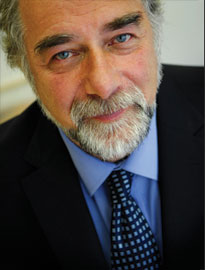 Former Dean of Faculty and current Pro-Vice Chancellor for Research at the University of Brighton, Bruce Brown, has been appointed to a senior role in the Research Excellence Framework (REF), the next major research assessment by the Higher Education Funding Council for England (HEFCE).
Professor Brown will lead one of four Main Panels, the others being: Professor Stephen Townley Holgate, MRC Clinical Professor of Immunopharmacology, University of Southampton; Professor Dame Ann Dowling, Head of Department of Engineering, University of Cambridge; and Professor Dame Janet Finch, Professor of Sociology, University of Manchester.
The Research Excellence Framework (REF) will take place in 2014 and will involve the expert review of all the research being undertaken in institutions around the United Kingdom. The Faculty of Arts has a history of success in similar assessment exercises, fostering the work of many world-leading scholars, artists and designers. Visit the Faculty of Arts research (CRD) website
Professor Brown also chairs the Portuguese Government's Fundação para a Ciência ea Tecnologia research grants panel (Arts) and is a member of the Advisory Board of the Arts and Humanities Research Council (AHRC). In the last UK Research Assessment Exercise (RAE2008) he chaired Main Panel O (Arts). In 2006 Professor Brown was a member of a joint working group convened by the Higher Education Funding Council (HEFCE)/AHRC on Research Metrics and currently is a member of HEFCE's Expert Advisory Group for the Research Excellence Framework (REF2014). Professor Brown has recently been appointed by HEFCE as one of four Main Panel Chairs to the forthcoming REF2014 with responsibility for Main Panel D (Arts and Humanities).
Read more about Professor Bruce Brown on our research (CRD) website