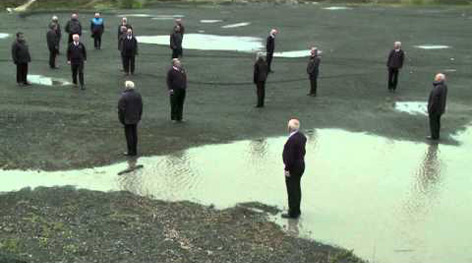 The work of sound artist, Mikhail Karikis, lecturer and researcher in BA(Hons) Performance and Visual Arts at the University of Brighton Faculty of Arts, is featured in exhibitions in the UK and Europe this summer.
Karikis's book, Sounds from Beneath, with accompanying film on DVD was produced in collaboration with visual artist Uriel Orlow and a male colliery choir. It recalls and sings the subterranean sounds of a working mine, bringing a desolate disused coalmine back to life through song.
Sounds from Beneath recently appeared amongst some prestigious names in the 'Most Wanted' list of collectibles in the May issue of the legendary music magazine Record Collector.
The film also features at two European festivals: the prestigious MANIFESTA 9: The European Biennial of contemporary art, which tales place in Belgium between 1 June-30 September 2012 and LOOP video art festival and art fair in Barcelona from 31 May 2012

Karikis also has a new body of work featured in a major solo show at the Wapping Project in London. Sea Women focusses on a community of female sea workers living on the N.Pacific island of Jeju - a volcanic rock between S.Korea, Japan and China. This old and fast vanishing community consists of 50-90 year-old women who dive to great depths with no oxygen supply to catch seafood and find pearls.


Karikis's immersive installation depicts the vocal practices of the women, including the unique sounds of their ancient and trans-generationally-transmitted breathing technique, their work-songs resonating in their camps, the noises of their democratic decision-making, and of other communal activities.
The installation at the Wapping Project runs until 8 July 2012 and Karakis will be in public conversation with critic David Toop and writer Cherry Smyth about his work on 28 June at 7:30pm.