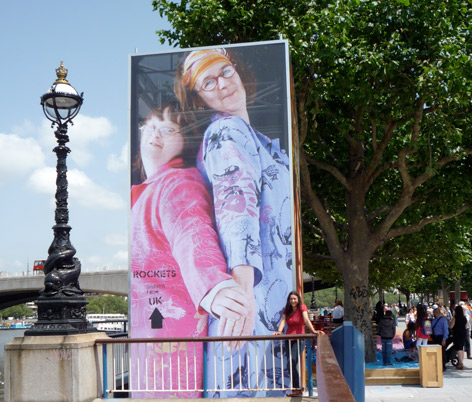 Alice Fox on London's South Bank
The work of the Rocket Artists group, alongside images of them working with University of Brighton Faculty of Arts MA Inclusive Arts staff and students, is currently featured in large-scale displays outside the Royal Festival Hall on London's South Bank.
The exhibition is part of the Festival of the World: Art Will Change the World and showcases researcher and lecturer Alice Fox's work as an "International Change Maker". Fox, who is course leader and founder of the pioneering MA Inclusive Arts Practice, is involved in initiating radical new arts collaborations between university staff, students and local community groups. Her work supports the university's contribution to social inclusion and the associated teaching based research has enhanced the quality of education provided to her students.
Below the displays are seats with text burned into the wood describing the Rocket Artists project and its philosophy. There are also photographs and a film about the Overalls pedagogic research project, which documents the use of artists' overalls as a creative learning tool for learning disabled artists and students. Students work alongside each other to make art in a vibrant and inclusive environment. This exhibition is on display in the Spirit Level Gallery inside the Festival Hall.
Fox said: "The work will be on display all summer until the 9 September giving the Rocket Artists, the Inclusive Arts MA course and the university some great, positive publicity visible to a huge public audience."
Fox is also Artistic Director of a major international exhibition on Inclusive Arts which is also planned to take place on the South Bank in March 2013. Entitled Side by Side, it will include an exhibition, performance and a symposium.