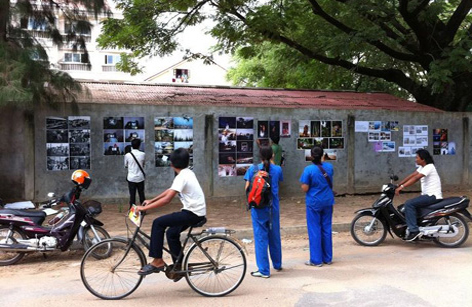 University of Brighton Professor of Visual Communications Paul Sermon is taking part in an research event to find design solutions to the rapid growth in urban populations.
Together with a team of seven other UK researchers, he is in India to explore the theme of 'Future Cities' to find ways in which design, research and digital technologies can help to build communities of engaged responsible citizens.
This unique fellowship opportunity is a partnership between the Arts and Humanities Research Council (AHRC), the British Council, UnBox Festival and the UK's Science and Innovation Network.
The team is working on research relevant challenges during a ten-day 'UnBox lab' working together in small teams, along with local mentors and advisors. This will lead up to a presentation of their work at the UnBox Festival in New Delhi next week.
The focus of the 'lab' is of major importance to many countries around the world, from 1991 to 2011; the urban population in India has increased from 100 million to 200 million. By 2041, 50 per cent of India's population is expected to live in cities. The issue is a worldwide one. The United Nations estimates say that by 2050, 70 per cent of the world's population will live in cities. The UK faces its own challenges of delivering effective and sustainable services within the context of rapid growth in urban centres, along with an explosion of personal digital technologies.
Pam Mason Head of Creative and Performing Arts at AHRC said: "These fellowships present an exciting opportunity for open-minded creative-thinking researchers. The opportunity will give the researchers the experience of working within a non-academic environment and within a cross-cultural setting. They will apply their research skills and knowledge to new types of non-academic challenges."
While an increase in urban populations puts increasing pressure on the infrastructure that makes them work, it can also be an opportunity to reimagine what future cities can be like."
The project is a collaboration between UnBox, British Council, the AHRC, Science & Innovation Network, supported by the REACT Creative Economy Hub and the National Institute of Design in Ahmedabad, India. It is a continuation and adaptation of the fellowship program associated with UnBox, a multi-disciplinary festival in India. All of the researchers will have the opportunity to attend the festival itself; where the successful collaborations will showcase their work.