DÉJÀ VU : University of Brighton MA Photography Show
A collection of work by 15 photographic artists goes on show from September 14-21st, 2012 (closed on Sundays) as part of the Photography MA at the University of Brighton.
The exhibition Déjà Vu showcases emerging and established international talent and multiple award winners of high-profile competitions including the London Photography Festival, 2011 East-West Art Award, 1000 Words European Photography Award, The BookCase Study Publication Award. The catalogue, which will be available both at the exhibition and as a downloadable application (iTunes) will feature images from each artist and an essay by Joanna Lowry, MA Photography Course Leader. She says:
"The photographers in this exhibition have developed the ability to subtly misrecognise the world in order to reveal it. Whether dealing with the traces of the historical past that shadow the landscapes of the present, the passing figure in the street, an imagined interior, a doll's face, or a dystopian future, they all recognise that the power of the photograph is in its capacity not for simple mimesis but for the production of that sudden magical moment in which we see through time and in which something new is revealed. If the photograph does provide a double of the world it is a fundamentally unstable one, one which opens up a domain of uncertainty through which we might, just, catch a glimpse of the real. Déjà vu."
The course has a reputation for developing an informed practice in contemporary independent photography, combined with high levels of craftsmanship and a conceptual depth that gives the resulting work an intensity, professionalism and edginess that is distinctive. This is a fantastic opportunity to see progressive photographic-based work in the heart of Brighton before it travels further afield.
DÉJÀ VU includes the final projects from:
Virgilio Ferreira, Kerry Grainger, Laurie Griffiths, Kristin Hoell, Mitch Karunaratne, Chloe Lelliott, Alina Linnas, Takayuki Murakami, Mark Purdom, Holly Oliver, Vanessa Roy, Heather Shuker, David Sterry, Paul Walsh and Kat Williams.
University of Brighton
Foyer Gallery
Grand Parade
Brighton
BN2 0JY
Preview Evening: Friday 13th 1800-2000
Exhibition: Saturday 14th – Friday 21st (Open Daily 10-6. Closed Sundays.)
More information – Heather@heathershuker.co.uk

MA Performance and Visual Practices, Exhibition and Performance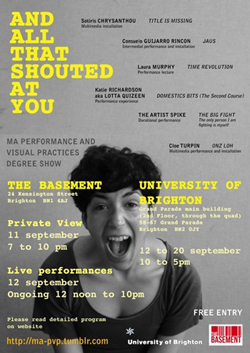 The show starts with a Private View and performances, 11th and 12th September, at our partner venue The Basement, 24 Kensington Street. Brighton BN1 4RJ.
11 Sept: 7 pm – 10 pm. Private View with performance extracts.
12 Sept: 12 noon – 10 pm. Installations and performances
Free entry, no need to book.
The events at the Basement are followed by an exhibition at the University of Brighton, in the Performance and Visual Art Studios, Grand Parade, Brighton BN2 0JY.
The exhibition runs from Wednesday 12th - Thursday 20th September. Opening Hours: Monday – Saturday 10 am to 6 pm. Closed Sundays.
The MA Performance and Visual Practices is an interdisciplinary programme that positively encourages research, performance and visual practices that expand into, across and beyond other fields of enquiry, whilst linking students to a network of local agencies and performance spaces. This programme reflects a contemporary visual culture, which is in a state of flux and change, and is marked by a shift to new grounds beyond familiar dialogues into a culture of performance which extends beyond discreet disciplines.
The first group of master students is graduating and will exhibit and perform a wide range of individual projects, from durational performance, one-to-one performance and performance lecture to multimedia performance and other, yet-to-be named performative interventions.
Artists: Sotiris Chrysanthou, Consuelo Guijarro Rincon, Laura Murphy, Katie Richardson, The Artist Spike and Cloe Turpin.
We hope to see you there.
MA PVP 2012 students and staff
Contacts:
Claudia Kappenberg, Course Leader - C.Kappenberg@brighton.ac.uk
Hayley Clements, Academic Programme Administrator - Tel. 01273 643200 - H.Clements@brighton.ac.uk
Performance and Visual Practice


MA Sequential Design/Illustration
MA Arts and Design by Independent Project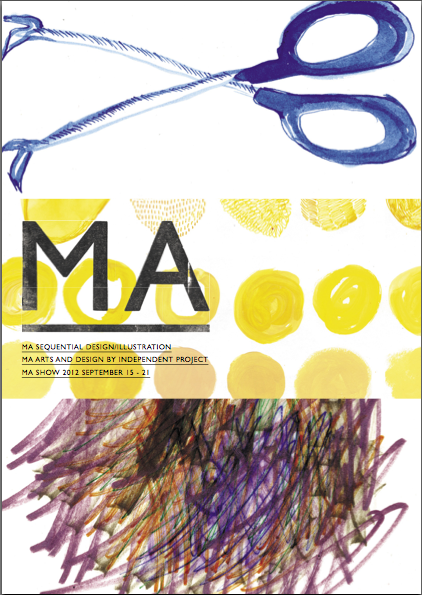 MA2012
UNIVERSITY OF BRIGHTON GALLERY
Private View – Friday 14 September 2012, 5:30–8:00pm
MA2012 showcases diverse new work by students graduating from the MA courses in Sequential Design/ Illustration, and Arts and Design by Independent Project at the University of Brighton. The exhibition includes animation, 3-D work, illustrated books for children and adults, experimental writing, interactive design, comics, and performance.
The highly acclaimed Sequential course attracts new and established illustrators, designers and makers from all over the world, keen to explore the principles of sequence within their chosen field. Work featured in the exhibition––ranging from a giant wordless comic set in 1940s California to a series of interactive objects designed to trigger sensory memories from childhood––demonstrates the variety of individual research. Other work considers the perceived eccentricity of the animal world; the narrative potential of abstract shapes; the value of autobiographical insight into anorexia, and the emotional pertinence of a grass skirt growing in a chest of drawers.
The Arts and Design by Independent Project course encourages experimentation and innovation within a specific field on a central project. Students come from a wide range of disciplines, giving the course its characteristic diversity; the areas of study and possible outcomes are hugely varied. This year's show includes stories told through a community's textiles, a range of electrical appliances that have been turned inside out, and a visual/performance artist exploring the role of the alter ego by working in close collaboration with himself.
These internationally recognised postgraduate courses support self-initiated projects and help students to develop an informed, critical and imaginative view of the subject. This exhibition is a testament to their unique creative inquiry.
________________________________________________________________
Exhibitors: Judith Abegg, Sandra Aguilar, James Burlinson, Sungsu Chung, Richard Cobbold, Grant Cieciura, Ellie Crane, Beth Dawson, Philip Drury, Dominic Evans, Emma Falconer, Sophy Henn, Hope Liao, Erika Pal, Jessica Plant, Woodrow Phoenix, Yeon Gyong Joo, Anna-Kaisa Jormanainen, Irene Jihyun Kim, Ling Yu Meng, Rebecca Rossiter, James and Tiago de Sousa, Elly Strigner, Rory Walker, Emily Wallis, Lauren Watson, Fang Yu.
Private View – Friday 14 September 2012, 5:30–8:00pm
Exhibition continues 15–21 September
Gallery Hours: Monday – Saturday 10 a.m. to 5 p.m. Closed Sundays.
University of Brighton Gallery, Grand Parade, Brighton BN2 0JY
For information on participating artists contact the course leader, Margaret Huber, at m.huber@brighton.ac.uk
For course details contact the course administrator, Linda Finch (tel. 01273 643041) L.J.Finch@brighton.ac.uk
Sequential Design/Illustration

Arts and Design by Independent Project