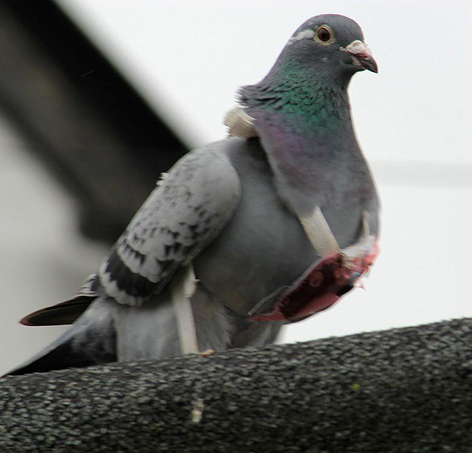 Photography student Craig Wye is using a homing pigeon and a camera-phone to take 'birds-eye-view' images of military sites as part of his final year show this month.
Craig, who is graduating with a Photography BA(Hons) is concerned with "The Media's representation of warfare in today's incrementally virtual and fabricated society", and is inspired by the military's responsibility in advancing photographic techniques.
He used the pigeon-mounted camera "to return the unseen gaze" of 'ARGUS-IS', a 1.8 billion pixel, unmanned Aerial Vehicle (UAV) mounted camera, used at military sites that is designed to track and record everything that moves within a 36 square mile area.
The aerial footage he has gathered includes areas surrounding Farnborough Airport and the UK offices for BAE systems, and the American defence company that produced the imaging system for the The Defense Advanced Research Projects Agency (DARPA), which is responsible for developing new technologies for use by the military.
Other sites include the logistics company QUINTIQ, and the hanger where the first UAV was developed which still houses the RAF's first photographic darkroom.
Craig's work will be on show at the Faculty of Arts Graduate Show as a projection onto the floor of the University Gallery. A full version of his film can be viewed from 6 June 2014 at: www.vimeo.com/craigwye