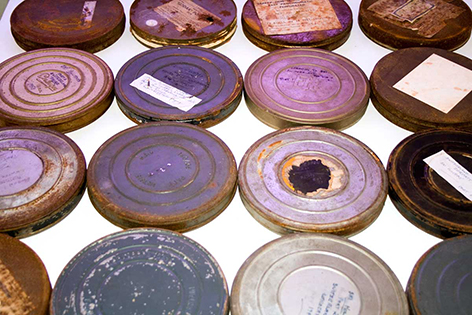 'Floating Memories' is a project to document over 150 years of the Brighton Swimming Club and its sporting and sea bathing heritage. The club has a wealth of historical information in archives that have never before been available to the public and to researchers.
A temporary display at Jubilee Library features material that club members have chosen to illustrate their activities. It features several film cans from the Roger Dunford Film Collection, now being digitised by Screen Archive South East.
Visit the Brighton Swimming Club display at Jubilee Library, Jubilee Street, Brighton BN1 1GE from 26 – 29 September 2011.
The Floating Memories website provides more information about the project and SASE's contribution to preserving the Swimming Club's visual history. This website will serve as the project's legacy, along with the film collection preserved in SASE's vault at West Sussex Record Office.
'Floating Memories: Brighton Swimming Club Archives 1860 - Present' is supported by the Heritage Lottery Fund.