'Capturing Colour: Film, Invention and Wonder' runs 4 December 2010 to 20 March 2011 at the Brighton Museum & Art Gallery. Admission is free.
'Capturing Colour' is the first exhibition to tell the international story of colour film -- from hand-colouring through to the digital image. It focuses on the colour moving image in Britain from its origins in magic lanterns, early colour photography and Kromskops, to applied colour films, Kinemacolor, Technicolor and Kodachrome. Fantasy worlds, the wonders of the nature, cinema blockbusters and home movies all illustrate the stories of the quest for colour. An exploration of Brighton and Hove's role as the birthplace of Kinemacolor is of special interest. Films are viewable on 20 screens throughout the galleries.
For the exhibition, Screen Archive South East's research led to the digital re-construction of several 100 year-old Kinemacolor films -- restoring colour to rare surviving black & white 35mm prints, and showing them for the first time to modern audiences.
Exhibition highlights include film posters, treasures of the early cinema like George Albert Smith's 'The Two Clowns', an extract from 'The Red Shoes' in glorious Technicolor, along with the cameras and projectors used to make and show colour films throughout the 20th century. The curator is SASE director Dr. Frank Gray.
For more information, visit the Brighton Museum & Art Gallery or contact SASE.
Read a review in the Guardian Film Blog.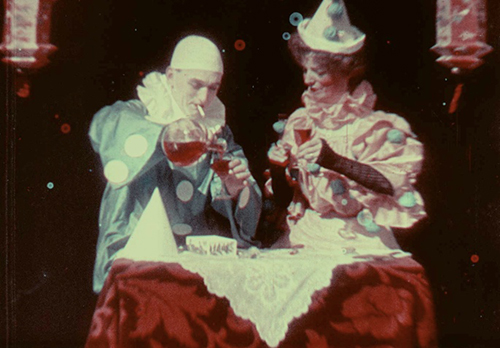 Still from the Kinemacolor film "Two Clowns" (1906), dir. G.A. Smith (British Film Institute / Screen Archive South East)
Capturing Colour is a collaboration between the Royal Pavilion & Museums, Brighton & Hove and Screen Archive South East. It is funded by Renaissance South East, Screen South and UK Film Council's Digital Film Archive Fund supported by the National Lottery, University of Brighton and the Arts and Humanities Research Council.