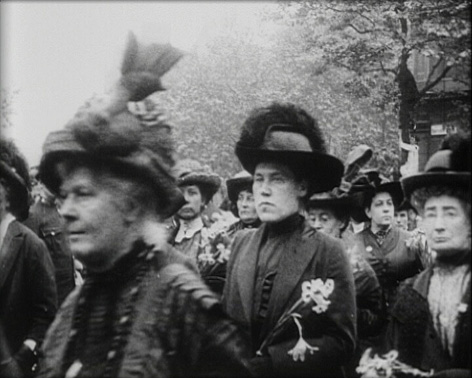 Broadcast on Sunday 26 May at 8pm on Channel 4, Clare Balding's Secrets of a Suffragette seeks to examine the most famous of all suffragette protests which saw the movement's "Deeds no Words" slogan put into practice with the death of Emily Davison at the feet of the King's horse at the Epsom Derby on 4 June, 1913.

The programme will explore the background behind the militant side of the suffragette movement and investigate the actual event itself by analysing three different newsreels of the Derby in an attempt to determine what actually happened on that fateful day.

Selected Screen Archive South East (SASE) footage include crowd sequences from The Nineteen Thirteen Derby at Epsom film and sequences from the funeral parade held ten days later from Funeral Procession of the Woman Who Dared.
Image: Funeral Procession of the Woman Who Dared, Warwick Trading Company, 14 June, 1913.