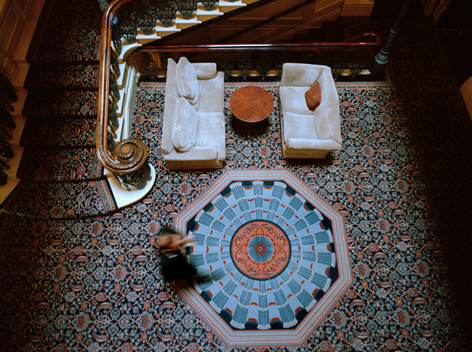 Image: From Halcion Lounge by Chloe Lelliott.
University of Brighton Faculty of Arts MA Photography postgraduate students Chloe Lelliott and Kristin Hoell who completed their studies in September this year, have both been selected to feature on the Source Photographic Review magazine's, 2012 MA portfolio website.
MA Portfolio is an annual showcase of emerging photographic talent from courses across the UK and Ireland. Work is curated by a small group of influential guest curators.
Anne Braybon, Photographic Project Commissioner at The National Portrait Gallery chose Chloe Lelliott's series of photographs entitled Halcion Lounge.
Chloe's describes Halcion Lounge as "Revolving around our experience of place, how we navigate and construct spaces both physically and psychologically. I seek the intangible imaginative potential of particular sites, drawing out their hidden stories and implicit associations.
Halcion Lounge - The hotel foyer, an ambiguous non-place within modern society, it acts as a gateway to an escape from daily life. A transient space, it is both familiar and strange, creating a sense of rootlessness and stasis. Without our expected markers the experience of time becomes slow and alien, altering our sense of reality. Brief encounters, entrances and exits, the foyer is a gateway to all floors."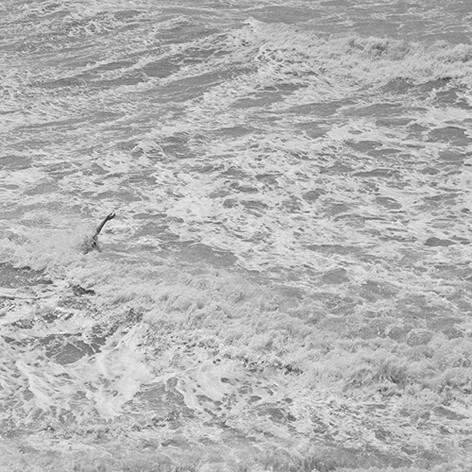 Image: From Drowning in a Sea of Infinite Meaning by Kristin Hoell.
Louise Clements, Artistic Director of Quad and Format International Photography Festival, selected Kristin Hoell's Drowning in a Sea of Infinite Meaning.
Kirsten describes her portfolio thus: "The sea is a peculiar space concrete yet abstract, it opens up a rich space for the human imaginary. Its surface, though seemingly mapped scientifically, technologically and economically, ultimately escapes knowledge and control in its ever-changing nature and with its unpredictable powers. Drowning in a Sea of Infinite Meaning looks at the sea's capricious, uncontrollable and sweeping surface appearances and human encounters with it. It is inspired by novels and poetry about the sea as well as by the romantic conception of the sublime. On the verge of abstraction the photographs establish a poetic space for the imagination that hints at the indefinite nature of the seas and our incapability to fathom it in its entirety."
Brighton's MA Photography course provides a creative and critical environment in which to practise and think about photography. The fine art-focused approach to photographic practice allows students to benefit from the course's close relationship with work in moving image and sound, enabling them to develop a strong professional identity as an independent practitioner.