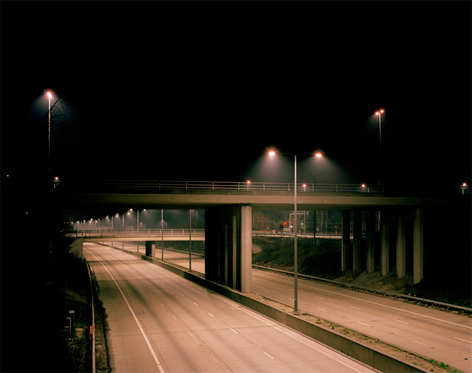 Work by Photography researcher and lecturer Fergus Heron, will feature in a new exhibition at the Anise Gallery in London.
Entitled Infrastructures, the exhibition brings together work in which Heron and fellow artist Sachiyo Nishimura imagine and reconstruct relationships between urban landscape and seascape through photography in connected and distinct ways. Together, they reconsider infrastructures as possibilities of depicting urban landscape and seascape, and, perhaps more importantly, as renewed processes of seeing.
Heron explores connections between landscape and architecture and works from his different ongoing series Motorways and Coasts which contrast nature with infrastructure. Motorways, at once somewhere and nowhere, depict rural and urban convergence. Coasts depict where land meets water in nature and explore the potential of the sea to absorb our gaze. Both series consider such spaces to be historical, mapped, charted and navigable. Together, they propose the coast and the motorway as photographic subjects that structure our seeing in pictures.
The exhibition runs until 14 October, 2012 at Anise Gallery, 13a Shad Thames, London, SE1 2PU.