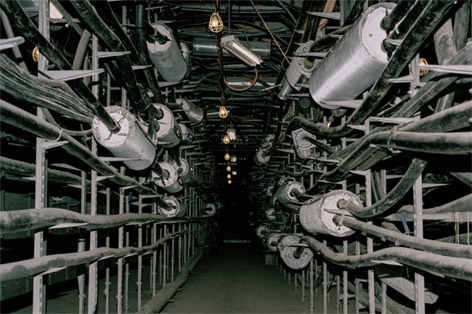 Photography BA(Hons) graduate Emma Charles has been commissioned by Jerwood Visual Arts to put on a show in their project space.
The exhibition includes work that forms part of Charles' research into the physical framework and materiality of the Internet. Documenting both the London Internet Exchange and a number of locations in New York City, Charles attempts to map the tangible infrastructure of the expanding digital landscape.
The installation includes a series of photographic prints and an audio track transcript of an interview with Mitchell Moss, Professor of Urban Planning at New York University.
These works led to the making of her film Fragments On Machines, which will be screened at a one-off event on Friday 28 February 2014 from 6–8pm.
Emma Charles' work explores metropolitan spaces of productivity that are hidden from the public eye, primarily focusing on the more ethereal and abstract elements of industry and corporate environments
Surfaces of Exchange runs from 14 January to 3 May 2014 at the Jerwood Visual Arts Project Space Café 171 Jerwood Space, London, SE1 0LN.
Opening hours: Mon - Fri 9am – 5pm, Sat 11am – 3pm. Closed Sundays and Bank Holidays
Admission: Free.
Image: Still from Fragments On Machines by Emma Charles.