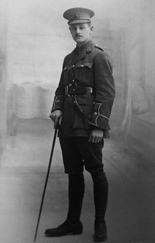 "Throughout my childhood, Great Uncle Clifford was a photograph. He sat within a frame on the mantelpiece. Silent, absent and yet somehow always present. Many years later, I was to inherit six letters describing the last few hours of Clifford's life as he led his men in an attack across No Man's Land at night in October 1916...
"Unsure quite how or why, and armed only with a camera, I set out to bring him home.
"Curiously, I was to discover that he is still here."
Michael C Hughes' book of photographs opens with his moving recollection of a family heirloom and moves through a fascinating exploration of war vetrans who survived various twentieth-century conflicts. Michael visited and photographed the men and women, collecting personal stories from them and their families along the way. The 35 portraits span a period of over 90 years, with the most senior sitter a WW1 veteran, through to individuals serving in Afghanistan today. Titled 'Marking Time,' the book combines a portrait of each veteran with their memory of service life and an historic photograph. As well as a collection of dramatic images, 'Marking Time' is a comment on war, the survival of war and the representation of past conflict.
Image: 'Chris,' Michael C Hughes.
On one level the body of work simply offers a unique 'snap shot' of historical military events; seen and recorded by the individuals that experienced them first hand. The subjects, both male and female cross all walks of life, in terms of both service role and experience. They include a female from the WRAF who served in 1918, a prisoner of war from WWII, a pilot in the Falklands, a corporal in Iraq and a surgeon in Afghanistan through to the recently appointed Chief of the Defence Staff.
Image: 'Jimmy,' Michael C Hughes.
The series also draws intelligently on photographic theory and process and, alongside the other projects in the 'Historia' show, was successfully submitted for the MA in photography at the University of Brighton.
Michael C Hughes explains: "'Marking Time' is made up of a portrait of the now and a memory of the then. It explores the relationship between both private and public memory; and the influence it has in defining our identity, both as individuals and as a nation. Photographically, the work challenges the viewer to consider if we are who we were; and if memory, similar to the historical events themselves, will always have a sense of disconnect or separateness from the present.
"Whether this sense of joining together, and concurrent disconnect, of both the portrait and their memory of war (and peacetime service) will prove comforting, or profoundly uncomfortable, will lie with the individual viewer. 

"When I set out to make a portrait and interview servicemen and women across all generations, I wondered if my real motivation hadn't been to in some way to bring Clifford home. As the project progressed, I began to think differently. Although I have not necessarily let go of Clifford, I have a feeling however that perhaps he has let go of me. Maybe when I stood in the field where he fell in battle all those years ago, he was not so much grabbing me by the ankle as letting go.
"For the truth of the matter is, that as it has been my privilege to meet with, listen to and be humbled by the sitters that I photographed, one thing became clear. I didn't need to bring Clifford home; he is still here. He is male and he is female; he is 92, 47 and 17 years old; he is any age and of all ages; he is the everyman and no man in the frozen figurative war memorial sculpture so full of life; he is a surgeon, a padre, a POW and an infantry officer; they are the ordinary men and women, who often, through no more than historical chance become part of extraordinary historical events; and thereby represent a private and a public memory in one entity."
Michael's is only one exhibit at the 'Historia' show which engages both at the level of higher studies in photography and appeals to a wider human interest.
Eleni Maria Frangeskou's project, Famagusta is Waiting, reflects the memory and nostalgia associated with historical and political issues. When her grandfather, a well-respected trader, lost everything during the 1974 Turkish invasion of Cyprus, the distress that followed caused him to develop a serious illness. Up until his death in July 1999, he continued to believe that, one day, Cyprus would be reunited. Frangeskou uses photos from the family archive, alongside original photographs of Famagusta and her Grandfather's 'frozen in time' shop and personal effects to illustrate the intimate details of a life changed by conflict.
Image: from 'Famagusta is Waiting,' Eleni Maria Frangeskou.
Fellow student Barbara Taylor uses series of obsessively recorded personal archives to create an autobiography as seen through different perspectives. By photographing all the bookmarks found in her library, all the beds she has slept in, and all the views from her kitchen window, these overlooked moments in the daily routine are collected, ordered, and reordered to reveal new narratives within the everyday. Currently exhibiting is Taylor's series Bookmarks, which uses personal ephemera found in books, alongside with the book's title, to construct a story around a moment in time.
Image: '8 November 2008', Barbara Taylor.
All the exhibitors recently completed the MA Photography course at University of Brighton. The show, Historia, which received high acclaim during its run at the University of Brighton Gallery, also features work by Peter Bennett, Eleni Maria Frangeskou, Gregory Reuben Levitt, Jon Santa Cruz, Tobias Slater-Hunt, Lindsey Smith, Barbara Taylor, Christopher Torry, Michael Vogt, Lynn Weddle, Lewis Williams, Emily Young and Sophia Zapiti.
Historia, moves to London's HOST Gallery, 1-5 Honduras Street, London from 27 October – 12 November 2010.