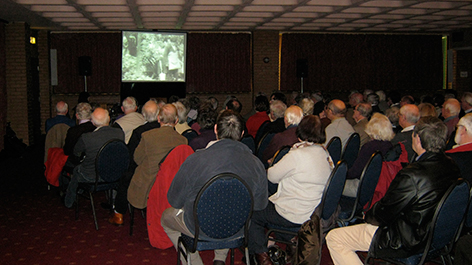 The close of the Medway on Screen project was celebrated at a DVD and website launch on Thursday 24 February at the Centre for Kentish Studies in Maidstone. There were 100 attendees from the length of the River Medway, representing Tonbridge, Maidstone, Rochester and The Medway Towns. The event was a great opportunity for Screen Archive South East to thank the many participants and volunteers involved since the project began in March 2010. In total, twelve community organisations partnered with the Archive, along with hundreds of local residents.
During the celebration, there was a preview of the forthcoming Medway on Screen DVD, which blends clips from the original archive films of the River Medway with voices recorded for the project's oral history interviews. Nearly 50 oral histories were recorded with community members, many of them taped by trained project volunteers. The memories of local people provided greater meaning and context for archive films and offered a fascinating new way of understanding the past through film.
Paul Hudson, Committee Chair for the Heritage Lottery Fund, attended the launch and offered praise for the project as well as reiterating the HLF's continued commitment to supporting community history projects of this kind.
Participants were very enthusiastic about their experience and the resulting website and DVD. One commented: "The voices of local people work so well with the archive film footage." Another said: "everyone was feeling quite elated with having made the effort to get involved."
The Medway on Screen website will continue to be available to the public for viewing the archive films and adding community memories. The DVD will soon be distributed free to all project partners and participants. Copies will also be available to view in Kent record offices, museums and libraries.
For more information, contact Project Leader Catherine Walsh.