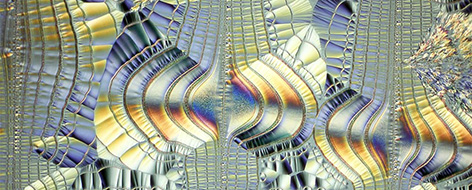 Spike Walker's visit to the Faculty of Arts allowed us to enjoy a public talk about his passion for looking at things down a microscope and taking stunning pictures of what he sees.
Spike took some time out before his Inspire talk to speak to us about his craft.
Is your photography art or science?
I have no idea what Art is and, from the available evidence, neither does anyone else. However, I hope that my photographs stand as good examples of the photographer's 'craft' and that, where possible, they have some aesthetic merit. Most of my photographs contain information of Scientific interest and educational value - or at least they are intended to!
When you started did anything like this exist? Did you have to invent the practice or make your own equipment?
The photographing of microscopical images had been pursued for about a century by the time I took it up, but the availability of new technology (high quality 35mm film, colour film, [micro] electronic flash, etc.) allowed me to explore avenues which had not been previously available.
Is there something that you would love to photograph but haven't had the chance yet?
Not particularly, but I would like to have had modern digital equipment available when I was attempting to photograph one or two particularly difficult subjects in the past.
What is your favourite photomicrograph piece and why?
Probably, one of my photographs of Vitamin C crystals made in the early '90s, though its appeal to me is almost entirely aesthetic.
What is your advice for anyone that wants to get into photomicrography?
Decide where your principal interests lie in regard to subject matter and get as thorough grounding as possible in the use of the microscope. After all, the camera's role in photomicrography is merely to record the image presented to it by the microscope: junk in - junk out and no amount of Photoshop is likely to improve it much!
Spike's Inspire talk comes in the run up to the 2014 Wellcome Image Awards being announced in March. Spike has won Wellcome Awards 24 times since 2002. During this time, he also gained 17 prizes and Honorable Mentions in international photomicrographic competitions as well as the Royal Photographic Society's Combined Royal Colleges Medal awarded in 2010.
Inspire - A brand new series of inspirational lectures, discussions and talks on a wide range of themes. Hosted at the Sallis Benney Theatre, Grand Parade, Brighton.
Inspire is open to the public and free of charge.