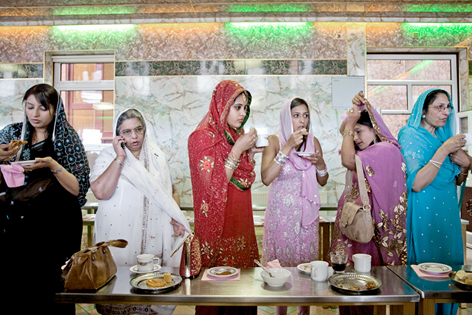 University of Brighton Faculty of Arts Photography graduate, Liz Hingley, who graduated in 2007 has been invited to join the ranks of Agence VU. Membership of this, highly prestigious, photography agency is regarded by many practitioners as a kind of 'holy grail' in terms of their career development.
Hingley graduated with a first class Honours in Editorial Photography BA(Hons) and went on to receive a two-year scholarship with FABRICA research and communications department in Italy. She completed an MSc with distinction in Social Anthropology at University College London in 2011.
Hingley's appointment to Agence VU follows her solo show at l'Hôtel de Sauroy in Paris last month and her winning of the Prix Virginia, an international women's photography prize.
Founded in 1986 by Christian Caujolle and Zina Rouabah, Agence VU is a mix of both photojournalists and art photographers. The agency seeks artists with a singular style and refuses to specialise in one field of photography. As Caujolle has written, the Agence VU represents a, "photography haunted by questions of time, movement and memory. A photography of distinct but coherent aesthetic styles, from reportage to still life, from impressionism to work that questions the role of documentary. A photography that, although it demands a strong connection between ethics and aesthetics, not only seeks to represent the world, but to become a part of it, with the requisite physical and formal risks that such a pursuit implies. It is a photography that questions how the world functions, but more importantly, where it fails."
Hingley, who lives in London spends the majority of her time working on long term projects and often collaborates with charities and universities, she commented: "I was firstly directed to look at Agence VU by one of my tutors at Brighton. I saw in the photographers they represent a magic of photography that I wanted to capture in my own work. For me entering an agency is like entering a family. I see it as a collaboration built on understanding and a desire to do great things together."
Image: Sikh Wedding, Soho Road, Gurdwara. Part of the Under Gods' Stories from Soho road, 2007-9 by Liz Hingley