As part of the Diamond Jubilee celebrations in June, Mid Sussex Diversity Forum organised a special DVD screening at the third annual Local Global event. 'Mid Sussex Memories' is a film about people who have settled in the region from the Coronation in 1953 to the present. Interspersed with interviews, the film includes scenes from two Screen Archive South East titles: 'Coronation Celebrations in Burgess Hill' and 'Horley Coronation Fete'.
Migrants from many countries recount their experiences of moving to Sussex and the new life they found there. The DVD was made by Silver Birch Film Productions and commissioned by Mid Sussex District Council.
In addition to the DVD presentation, Local Global featured food, dance and music performances from several cultural communities. For more information about this special event, visit the Mid Sussex District Council website.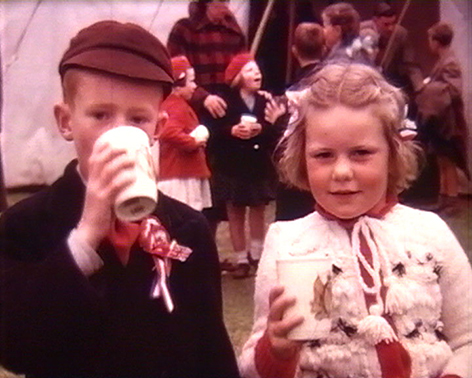 Children holding their commemorative mugs, 'Coronation Celebrations in Burgess Hill' (1953)