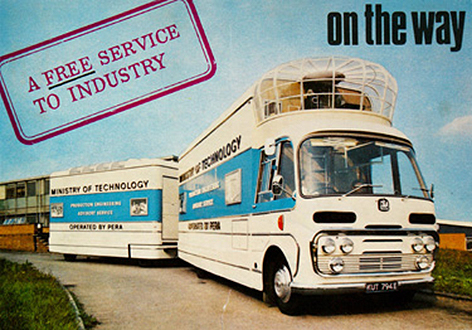 To celebrate the launch of the Screen Heritage UK programme and the BBC's Reel History of Britain television series, Screen Archive South East welcomes everyone to visit the Vintage Mobile Cinema and discover Brighton on film!
In 1967, when Prime Minister Harold Wilson's scientific revolution was at its hottest, Minister of Technology Tony Benn commissioned seven mobile cinemas to tour British factories to promote modern production methods. After a few years of service, this fleet of customised Bedfords was sold off and by 2003 the only known survivor was found rusting in a field in Essex. Vintage vehicle enthusiast Ollie Halls and Emma Giffard took on the task of reviving the vehicle and returning it as close as possible to its original 1960s condition.
Enjoy this rare opportunity to see the Vintage Mobile Cinema and to explore Brighton's film heritage. Film programmes take place from 12 to 6 pm and last 15 minutes.
See newly preserved and digitised films of Brighton in the past
Learn about the importance of preserving and sharing the nation's screen heritage
Meet the film archivists – the guardians of these important public collections