Communities across the South East are marking the 60-year reign of Queen Elizabeth II with film screenings and special events. Rustington Parish Council will be showing the 1977 film 'Village Jubilations' at their Diamond Jubilee celebrations, while County Archivist Alan Readman is hosting a film evening at the West Sussex Record Office on 30 May featuring several films, among them 'Princess Elizabeth in Crawley' and from Bognor Regis 'Silver Jubilee George V'. In Brighton, there will be a special programme on 2 June 'Diamond Jubilee: Back to the Fifties,' including a reminiscence workshop and screening of the film 'Coronation Celebrations in Brighton'.
Meanwhile on television, the BBC 'Inside Out' programme will present clips from 'Coronation Celebrations in Brighton' and a Meridian News report will show excerpts from the 1935 Silver Jubilee celebrations of George V in Chichester.
All of these films are part of Screen Archive South East's collection and document the region's traditions and celebrations across the 20th century.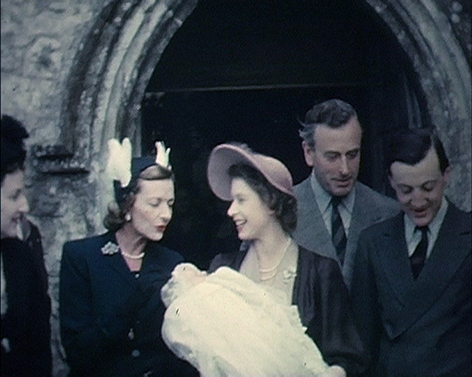 Frame from 'Brabourne Family Celebrations - Christening', 1947. Princess Elizabeth is holding the baby.