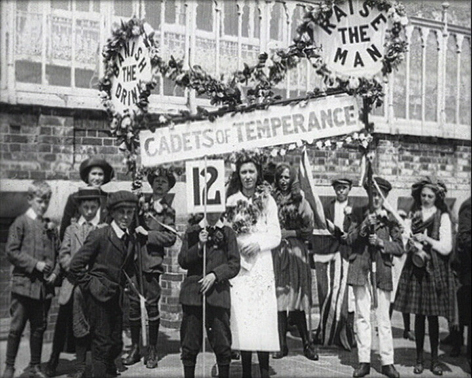 An exhibition at the People's History Museum, Manchester examines the everyday experiences of working people and their families related to drink and abstinence. Demon Drink? Temperance and the Working Class brings together artefacts and archive film footage to explore this important social phenomenon. The exhibition closes 4 February 2013 and has attracted more than 10,000 visitors in its opening months. Screen Archive South East has contributed 'Brighton & Hove Band of Hope Demonstration' (circa 1913), a fascinating film about children in the temperance movement.
The British Association for the Promotion of Temperance was formed in 1835 to combat alcohol abuse, which was seen as the main cause of social and criminal behavior. In 1847 the Band of Hope (temperance organisations for children) was founded. Children as young as six could enrol. Bands would meet weekly to hear lectures, sing, play music and participate in other activities, such as the marches seen in this film. With the growth of the railways, local temperance societies would often organise excursions for the children to seaside resorts. Public demonstrations were staged in the hope of attracting new members to fight the cause against the evils of alcohol.
For more information about 'Brighton & Hove Band of Hope Demonstration', contact Screen Archive South East.