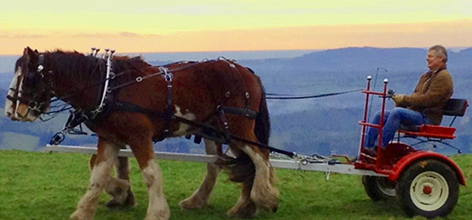 Actor and horse owner Martin Clunes hosts a new ITV series exploring the role of working horses around the world. He visits horses working in vineyards, on farms, in ceremonial and military roles and even in traditional fishing. The first programme in the series Martin Clunes: Heavy Horsepower airs February 7th at 9 pm on ITV.
Featured in the first episode is the Screen Archive film 'In England's Garden', made by Ernest 'Spot' Botting in the 1930s. This elegiac visual essay shows horses ploughing and harvesting in rural Kent as part of the cycle of seasons on the farm.
For more information about this archive film, contact Screen Archive South East.