Centre for Research and Development | Arts
Monday Lecture - Mole Weatherall
1st Oct 2012 12:00pm-1:30pm
Sallis Benney Theatre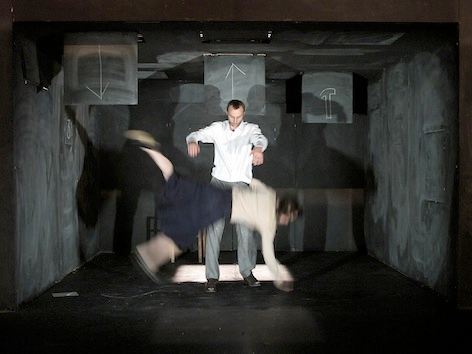 Lecture by artistic leader, Mole Weatherall, as part of the Monday Lecture Programme for Autumn 2012.
Mole Wetherall is the artistic leader of Reckless Sleepers producing the companies' theatre projects and installations. Trained as a visual artist in the late 1980's he joined Station House Opera as a maker and performer, throughout the 1990's he concentrated on site specific and intimate performance projects for Reckless Sleepers, whilst also developing the rehearsal space PreSet.
In 1996 he was commissioned to create a large sound piece Donkey for the European Football Championships. In 2002, he developed a huge site-specific programme of works for the National Museum of Scotland in Edinburgh. Also in 2002, he was asked to be a resident Artist at Nieuwpoort Theatre, Gent, creating Quiet Time, The Last Supper and A House on a Hill.
Mole continues to live and work in Belgium has just completed the three year research programme A-trophy (acts of terror), a project that supported the early development of a range of theatre projects that include the production of Spanish Train, The Pilots, A piece for Children called With my head in the… and After Dubrovka, a sound installation commemorating the fifth anniversary of the Moscow Theatre siege. This research period also included the production of a book documenting the processes used in the development of a Reckless Sleepers project called Trial.
Mole has been working on a new programme of works that will involve young artists. Called Club Reckless the project creates larger scale touring pieces with recent graduates of contemporary theatre practice. The projects include This is not America part 3, Die young stay pretty and this summer, Daddy Cool will be produced for the Flare Festival in Manchester.
Mole has just completed a residency in Australia; the company are currently touring both Schrödingerand the Last Supper. A new research project called Empire starts in December 2012.