William Kentridge, undoubtedly the best known artist from South Africa, was celebrated in an exhibition of his prints, installations and films in and around the University of Brighton's gallery. It was the largest Kentridge exhibition ever mounted in the UK and the majority of exhibits had never been shown here before.
The programme of multimedia events included a large-scale exhibition of Kentridge's prints from the 1990s to 2007; a new video installation first shown in 2005 at the Venice Biennale; two screenings of Kentridge's films with an accompanying original, live score by Philip Miller and a chamber orchestra; as well as a two-day symposium.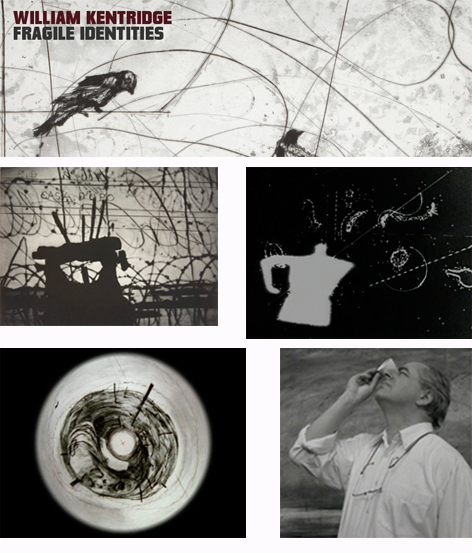 Kentridge was born and raised in Johannesburg. Although his work was created in the context of post-apartheid society and informed by the memory of the apartheid years, he does not adopt an obvious political agenda. Instead his work speaks of a constant dialogue, a state of flux and ambiguity and the questioning of identity for any individual living in the post-traumatic political landscape that is South Africa.
Whilst Kentridge's work is insistently political, it rejects any easy or prescriptive sloganeering. It is this quality, as well as his inventive use of mixed media - spanning theatre design, drypoint prints, opera, animated film, drawing, light projection/refraction, and photograveure - that has made him an artist of international significance well beyond the South African context.
He developed his own relatively violent style of drypoint etching, while continuing his practice of charcoal drawing. It was the developing relationship between his etched and sketched work and his productions for film and theatre that ensured his growing international reputation in the 1990s.
The exhibition entitled 'William Kentridge: Fragile Identities,' presented over 60 prints as well as three major installations, raising questions about the nature of artistic representation in the context of Twenty-First century politics.
The majority of the prints were showcased in the university's gallery alongside 7 Fragments for Georges Méliès (2003), a seven-screen, black-and-white projection in which Kentridge pays homage to the pioneering French animator.
Kentridge also collaborated with fellow South African, Philip Miller, in the presentation of their combined production Nine Films for Performance (1989-2003), which documents the fragile security and fleeting victories of Soho Eckstein, a fictitious property developer. This film traces the story of decay that forms his life in apartheid Johannesburg. The films were screened at the Sallis Benney Theatre and formed part of the CineCity film festival.
Kentridge's career has seen solo shows worldwide at venues such as the Metropolitan Museum of Art, New York; Tate Modern and Serpentine Gallery, London and the Barcelona Museum of Contemporary Art. In 1999 he was awarded the Carnegie Medal and in 2003 received the 'Goslar Kaisserring' in recognition of his contribution to contemporary art.
Kentridge represented South Africa at the 2005 Venice Biennale, having previously exhibited there in 1993 and 1999. His most recent commission, Black Box/Chambre Noire, was presented at the Johannesburg Art Gallery last year and is a major part of the permanent collection at the Berlin Guggenheim.
Principal lecturer in historical and critical studies at the University of Brighton's School of Architecture and Design, Peter Seddon, said: "William Kentridge's work has received international acclaim and we are delighted that he has chosen to exhibit at the University of Brighton. The exhibition and associated events will provide a rare opportunity to see the entire spread of his recent work and for his work to reach an even wider audience."
See also:
Exhibition
|
Symposium
|
Performance
William Kentridge - Fragile Indentities is one of the books available from the Faculty of Arts online shop.