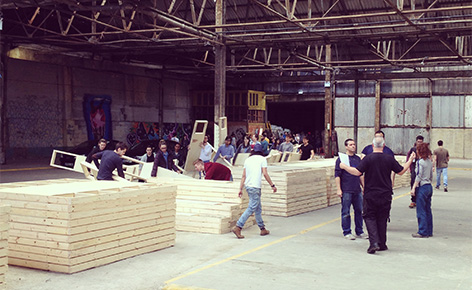 This year, Architecture and Interiors students from the University of Brighton will occupy Brighton's currently derelict Circus Street market space with an exhibition of their final year design projects.

The former Municipal Market on Circus Street, adjacent to the Grand Parade campus, is now run as a temporary community arts space by innovative developers Cathedral Group. Students from undergraduate and masters level courses will build a temporary structure in which to exhibit their design work which has this year explored a variety of sites on the South Coast as well as in London and overseas.

The exhibition pavilion, which is over 30m long, reuses last year's reciprocating grid structure roof, designed so that it can be constructed with low-grade plywood that would otherwise have been treated as waste by the building industry. The roof rests on studwork walls that have been pre-assembled due to the short construction period available following the use of the venue in the Brighton Festival.

The exhibition is part of the Faculty of Arts Graduate Show, which continues in the adjacent Grand Parade building, and also includes additional events such as:
- A installation constructed from reclaimed timber, built by students in collaboration with Brighton alumni Andy Cross (AN-Architecture).
- The opening of the experimental 'Waste House', designed by the University of Brighton's Duncan Baker-Brown, Tuesday 10 June.
- Employment in construction fair, in collaboration with City College and Cathedral Group, Thursday 12 June.
"Our focus this year has been on giving the students more room to show their work" says Interior Architecture Course Leader, Glenn Longden-Thurgood. "Working in Circus Street has also allowed us to develop a more experimental installation in the Grand Parade garden."
Working on live build projects is an important part of architectural education at Brighton, according to Architecture Lecturer Ben Sweeting: "It's a great opportunity for the students to learn about technology and construction sequencing through being involved in practical projects like this. This is part of the hands-on attitude to technology at Brighton and is also reflected in the crafting of hand drawing and physical modelling in many of our design studio groups."
The show is open from Saturday 7 June and continues until 15 June 2014. It will reopen for one week to play host to events during the RIBA Love Architecture festival (details to follow).

Where

Circus Street Municipal Market adjacent to University of Brighton Faculty of Arts, Grand Parade, Brighton BN2 0JY.
When
Faculty of Arts Graduate Show: 7-15 June 2014

Saturday 7 June - Sunday 8 June 12 noon - 5pm

Monday 9 June - Wednesday 11 June 10am - 6pm

Thursday 12 June - Friday 13 June 10am - 8pm

Saturday 14 June - Sunday 15 June 12 noon - 5pm

The Brighton Waste House: 10 - 15 June 2014, 10am - 12 noon