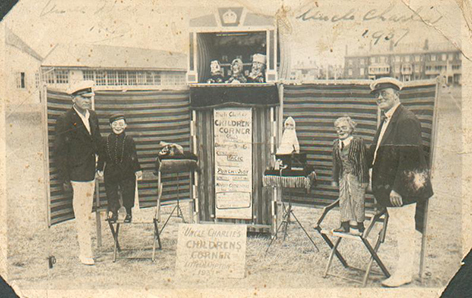 'Postcards from the Past' is a collection of three short films about local memories of seaside entertainment along the South Coast, in particular the Punch and Judy show which celebrates its 350th anniversary in 2012. Using archive films from Screen Archive South East and the personal photographs of participants, the project forms part of an exhibition celebrating this traditional seaside activity.

The project was supported by the Heritage Lottery Fund and Screen Archive South East and curated by the Fedora Group. The 'World of Punch and Judy' exhibition opened at Littlehampton Museum on 31 July and will tour other local south coast museums over the next year, including the Hastings Museum & Art Gallery (1 October 2011 – 8 January 2012), the Brighton Fishing Museum, the Worthing Museum & Art Gallery and the Rustington Museum.
For more information, contact the Fedora Group.
Image: 'Uncle Charlie, 1937', Leigh Lawson Collection, courtesy of the Fedora Group