Graphic Design Archives in Japan
Posters by Japanese designers are some of the most striking and memorable. The work of Tadanori Yokoo, Ikko Tanaka, Shigeo Fukuda and others continues to excite and engage audiences. Their designs are admired and collected the world over. While their legacy is preserved in Japan, for example in the archives held by the DNP Foundation for Cultural Promotion, there is no coordinated national collecting policy relating to posters, a cultural form for which the country is rightly famous.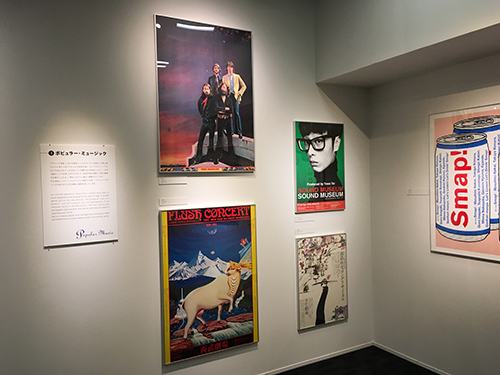 To rectify this situation, the Japanese Agency for Cultural affairs established a 'Model Project for the Development of Design Archives Graphic Design Field' co-ordinated by the Kyoto Institute of Technology (KIT). The team responsible for the project has undertaken extensive fieldwork in surveying graphic design collections within Japan and identifying best practice elsewhere in the world. Their aim is to build networks of people, organisations and, eventually, graphic objects. In 2015 a useful report on their work to date was published, listing institutions visited and their early findings.
In January this year, as part of this endeavor, Kyoto Institute of Technology organized an international symposium 'Graphic Design Archives: Today and Looking Forward'. Held at the Museum of Modern Art Tokyo, the event included an introduction by Seishi Namiki, Director of KIT Museum and Archives, presentations from Sakura Nomiyama, Research Fellow at the Cooper Hewitt, Smithsonian Design Museum, Park Arm Jong, Director of Seoul Design Museum, and Catherine Moriarty representing the University of Brighton Design Archives. Yukihiro Hirayoshi and Takako Teruyama both of KIT, chaired the discussion.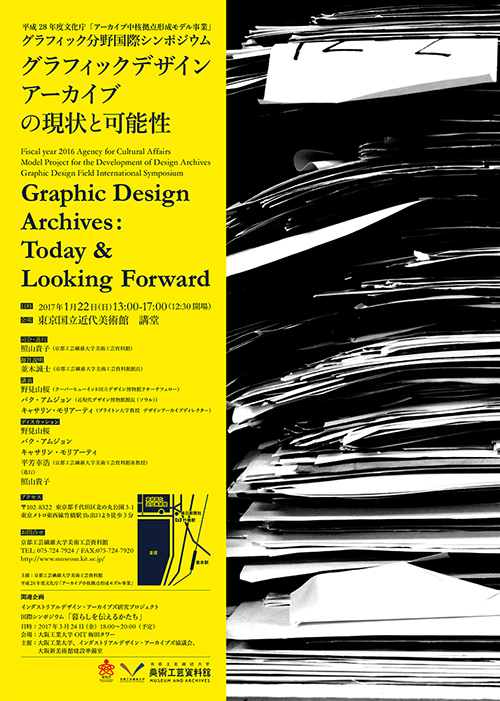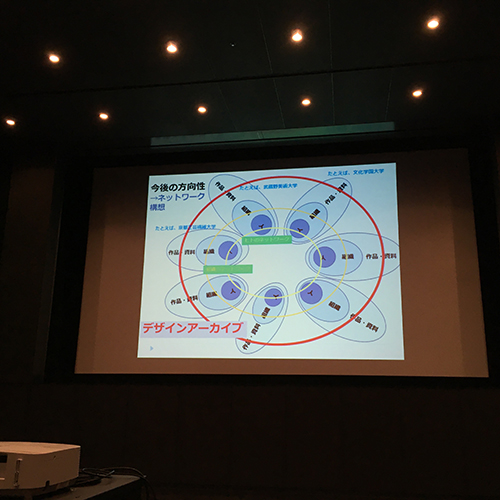 The event focused on how we understand the place of graphic design in any given collecting context. Is a poster, for example, part of a wider archival corpus and understood as one element in a more complex body of material, or is it understood as a unique work of art with the status of an individual object within a collection of equivalent things, as in a museum collection? Discussion also addressed the aesthetic, cultural and social significance of graphic design; the status of materials associated with its production; its identity as a mass-produced object; and its original and now digital mobility within distribution networks physical and virtual. Participants considered the potential of connecting information about graphic design within Japan, and around the world, and the role of the different professionals involved in stewardship whether they be librarians, archivists or museum curators.
For participants in the symposium, the opportunity to visit Kyoto Institute of Technology to see the extensive collections held in the Museum and Archives
Was an important element of the programme. Numbering over 20,000 items, the poster collection at KIT is magnificent. Built up over a century, it includes masterpieces of European poster design as well as a rich and diverse record of Japanese posters – from those produced anonymously for commercial purposes to the cultural artefacts commissioned from the country's leading designers.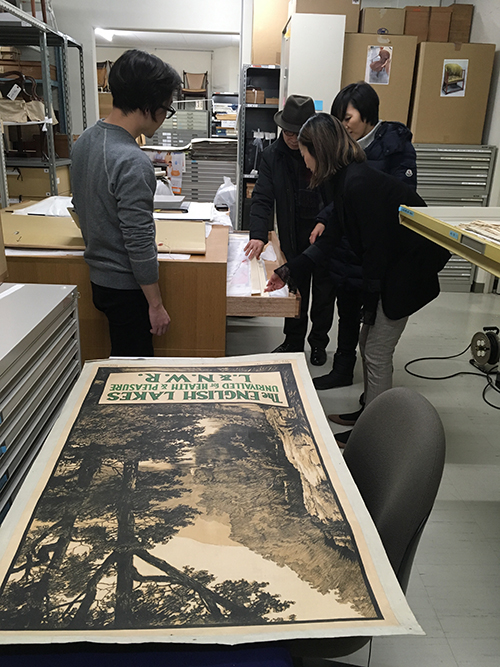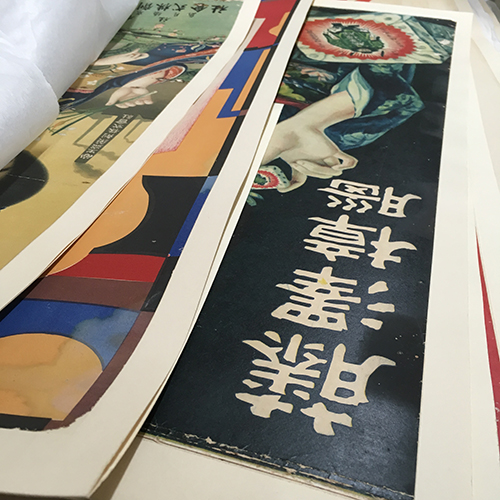 The posters from Great Britain include fine examples commissioned to promote railway companies showing scenes from around the country, and an interesting selection of government posters dating from the First World War. Thus, in the same way that posters from Japan enrich the poster collections at the University of Brighton Design Archives, the V&A, London and MoMA, New York, among many others, so can some of the finest examples of British posters be found in Japan. It is the research possibilities brought about by the varied locations of multiple graphic objects that make collaborative projects in the field of graphic design so full of potential.
Catherine Moriarty
University of Brighton
February 2017
1. Posters by Tadanori Yokoo displayed in the exhibition 'Graphics and Music' at ddd Gallery, Kyoto, 20 January – 18 March 2017.
2. Poster advertising the symposium 'Graphic Design Archives: Today and Looking Forward', Museum of Modern Art, Tokyo, January 2017. Poster designed by Tatsuya Oka, KIT Museums and Archives
3. Visualisation of 'Model Project for the development of Design Archives' presented by Seishi Namiki, Director at KIT Museums and Archives.
4. Delegates and members of the research team examining the poster collection at Kyoto Institute of Technology Museum and Archives, January 2017.
5. Posters in their plan chests, a few of the thousands available for research at Kyoto Institute of Technology Museum and Archives.