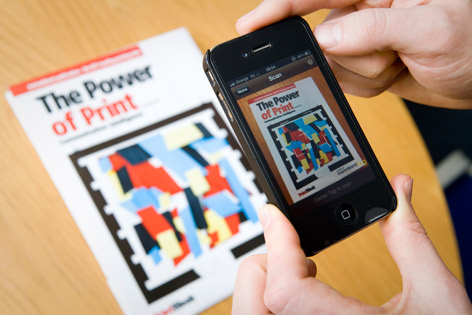 Jamie Rickett, a second year student from the faculty's BA(Hons) Graphic Design course has won a student competition to design the cover of a PrintWeek magazine publication entitled The Power of Print.
The Power of Print aims to demonstrate and celebrate how print continues to be an effective communication medium in the age of digital technology.
The initial idea for student involvement came from the editorial team at PrintWeek which approached lecturer Rose Gridneff. The PrintWeek team delivered a simple design brief to the 37 participating students to create a cover that demonstrated and showcased how print and digital technology can work together.
Jamie's design won through against some stiff competition from 36 of his fellow students, and the judges, who are from the world of publishing and advertising, praised the high calibre of entries. Commenting on Jamie's winning cover design James Hayr, head of sales at Microsoft Advertising said: "This design shows fantastic initiative and innovation - A well-deserved win". Another commented: "it is an amazingly clever bit of design that really gets across the power of print in the communications mix."
The cover design is interactive and links via iPhone to a video of Jamie explaining how the design came about, how he chose certain elements and the effect he hoped the cover would have on readers. In addition to having his design published, Jamie claimed an iPad 2 as his prize. Competition runners-up were Helen Dean, Takashi Otsuka, Ryan Neil and Barney Stepney.