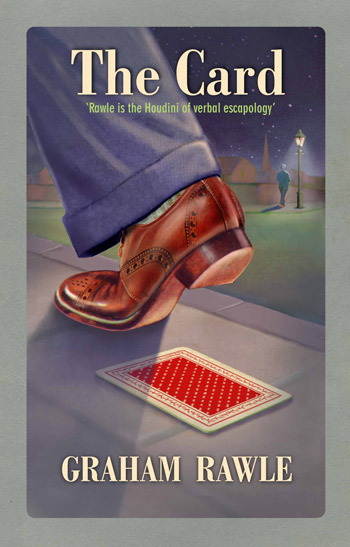 MA Sequential Design and Illustration Lecturer, Graham Rawle's new novel, The Card, is published next month.
The Card is about a man who collects cards he finds on the street – playing cards, bubble-gum cards, cigarette cards – each one apparently containing a hidden clue to a coded message: to save the life of Princess Diana who is 'in grave and imminent danger'.
As the protagonist of The Card embarks on his mission, a parallel narrative strand from thirty years earlier in 1967 gradually reveals the underlying motive for his obsession. The two narrative paths begin to converge as the story heads towards its seemingly preordained conclusion.
Commenting on the book's themes Rawle said: "The story explores notions of collecting, 'completism' and synchronicity: our willingness to find meaningful connections between things that will ultimately lead us to where we were heading in the first place."
The book is written, designed and illustrated by Rawle and its pages contain evidence of the cards and where they were found - all of the cards were created specially for the book. The text design makes use of varying fonts and a series of coded graphic symbols to register connections and highlight coincidences throughout the story. These visual signifiers provide an unwritten subtext that gives insight into the workings of the protagonist's mind and his unique view of the world.
Rawle is a writer and collage artist whose visual work incorporates illustration, design, photography and installation. His weekly 'Lost Consonants' first appeared in the weekend Guardian in 1990 and ran for 15 years. He has produced other regular series for The Observer, The Sunday Telegraph Magazine and The Times.
Among his other published books are The Wonder Book of Fun, Lying Doggo, and Diary of an Amateur Photographer. His collaged novel Woman's World, created entirely from fragments of found text clipped from vintage women's magazines won wide critical acclaim, described by The Times as 'a work of genius…the most wildly original novel produced in this country in the past decade.'
The Card is published by Atlantic Books on 1 June, 2012.