Graduating from University of Brighton's Faculty of Arts is a special experience. Our final year students in 2010 are following the likes of Turner Prize winners Rachel Whiteread and Keith Tyson, also artist Alison Lapper, fashion designers Julien Macdonald and Barbara Hulanicki, all of whom went through a successful graduate show. For most students in the Faculty of Arts, the annual graduate show is the public climax to their years of study and the beginning of an exciting future.
More than 500 graduating students from the faculty will be showcasing their work to over 15,000 visitors this June at the annual Burt Brill & Cardens Graduate Show 2010, entitled Hook, Line and Sinker.
Transformed into the biggest art gallery in the south east of the UK, the Faculty of Arts will play host to a variety of work from a range of 25 courses from fashion and 3D Design to photography.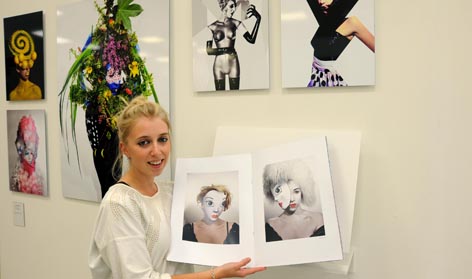 As one of the city's cultural highlights of the year, the graduate show is accompanied by a bumper programme of activities, including the annual sell-out Graduate Fashion Show on Saturday 5 June and the Family Day on Sunday 6 June. This sees the return of the hugely popular Big Knit, where novices and pros come together with their knitting needles.
The graduate show provides an opportunity for visitors to uncover the next generation of promising artists, and they can commission artwork or compile a collection of the students' work before they become leading lights in their profession.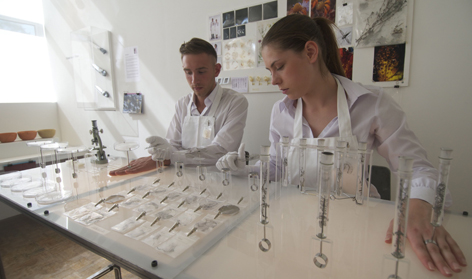 There are many student names worth remembering:
Steven Woodward, Fashion with Business Studies student who was runner up at this year's Fashion Awareness Direct (FAD) competition, had his work showcased as part of London Fashion Week. His designs were selected from more than 100 entrants in a competition described by Vogue.com as an "undeniable springboard" for the next generation of talent. Knitted textiles student Debbie Holman, who received a £2000 bursary from The Worshipful Company of Framework Knitters, will be displaying her clothing range, which is designed to help improve the quality of life for eczema sufferers. Debbie has worked with designers at Accessorize and her work has been sold in New York.
Also the recipient of a bursary from The Worshipful Company of Framework Knitters is knitted textiles student Sophie Penn. She will be exhibiting a range of work created as a result of her extensive research into the ways in which communication can be used in knitted textile design.
Textiles print student Laura Andrews, who has benefited from working in Ecuador, India and also at the design department of Accessorize, will be displaying her own range of fashion and textiles. With a great interest in fair trade, Laura is currently working as a designer for EcoChic, a company based in Hove, and she also contributes to the online magazine.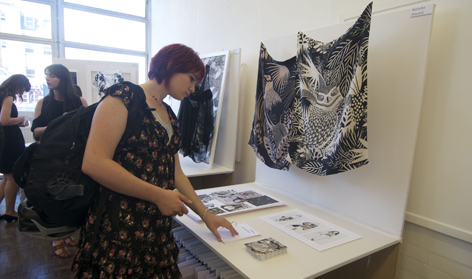 Fine Art Printmaking student, Ania Zydron, jumped at the opportunity to take up a placement at the Nagoya University in Japan as part of her course. She had the opportunity to learn traditional Japanese woodcutting techniques and her exchange culminated in an international student exhibition.

Like many of the students exhibiting at this year's event, Ania is looking forward to seeing her work being given a wider public stage.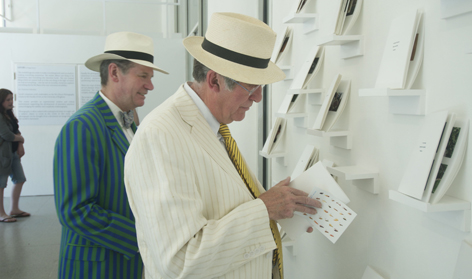 At Pavilion Parade, there are displays from the subject area of History of Art and Design, with project work from students in BA (Hons) History of Design, Culture and Society; Visual Culture; History of Decorative Arts and Crafts; Fashion and Dress History. Students on these courses are encouraged to examine the cultural, social and material conditions that shaped, or influenced, the production and consumption of objects, images and institutions and their changing historical interpretations, significances and meanings. Their final year exhibitions relate to their research for their dissertations, the culmination of their three years' study. Visitors to the exhibitions can gain an immediate impression of the range of topics studied at this level.
For more information on any aspect of the Burt Brill & Cardens Graduate Show, call the University of Brighton Press Office on 01273 644756.
Ticket office 01273 644099


Saturday 5 June

Grand Parade: 12 noon – 8pm - Exhibitions open
6pm - Fashion Show – tickets limited
Sunday 6 June

Grand Parade: 12 noon – 6pm - Exhibitions open and Undergraduate Open Day
Pavilion Parade: 12 noon – 6pm - Exhibitions open
Monday 7 June

Grand Parade: 10am – 8pm - Exhibitions open and Undergraduate Open Day
Pavilion Parade: 12 noon – 4pm - Exhibitions open
Tuesday 8 June

Grand Parade: 10am – 8pm - Exhibitions open
Pavilion Parade: 12 noon – 4pm - Exhibitions open
Wednesday 9 June

Grand Parade: 10am – 8pm - Exhibitions open
Pavilion Parade: 12 noon – 4pm - Exhibitions open
Thursday 10 June
Grand Parade: 10am – 4pm - Exhibitions open
Pavilion Parade: 12 noon – 4pm - Exhibitions open