About the Silver Stories project
Silver Stories flowed from an earlier Action Research project called EXTENDING CREATIVE PRACTICE (2010-2012) which demonstrated the efficacy of digital storytelling as means to engage older people and marginalised groups in the use of ICT. SILVER STORIES extended this research into new areas by working with professionals and providing a greater emphasis on the stories told.
Our research activity aimed to:
Adapt and transfer learning methods from EXTENDING CREATIVE PRACTICE across the whole partnership and extend it to two new countries and, provide Vocational Education and Training (VET) for a new target professional group – i.e. trainers and employees working in the caring professions across the whole partnership.
Establish a means for Digital Storytelling to be incorporated into the on-going training of health and care professionals in all the partner countries.
Research the use of digital storytelling by older people to gain a clearer understanding of why people tell specific stories
Investigate the scope for developing a systematic approach to the collection of Digital Stories
The partnership included organisations with expertise in Digital Storytelling (Digitales, Digital Story Lab, Mitra, Trapezio, University of Brighton), provision of vocational training for targeted professionals (University of Brighton, Leiria, Laurea and the Progress Foundation), evaluation (CUCR) and research (University of Brighton, DigiTales). It combined the skills, experience and knowledge needed to develop the vocational use of Digital Storytelling in the caring professions. This was supplemented by long standing working relationships and a successful track record in the delivery of pan European research projects. The project's legacy can be seen in the range of activity happening across – and beyond – the partner countries.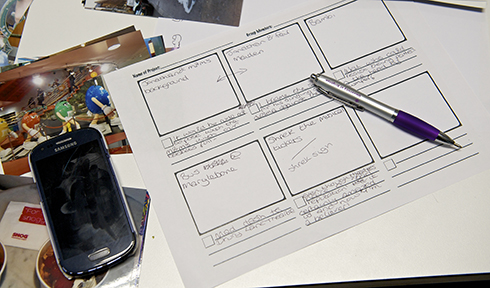 Silver Stories connected practice and professional training to research through a series of interventions. The foundation of the research was a Needs Analysis. This provides a background to digital storytelling work that has taken place in higher education settings, with a particular focus on working with older people. The report draws upon interviews with partners and goes further afield to illustrate digital storytelling interventions both in Higher Education settings and in community settings, in which the method has been used with older people, or with students who are training to work with older people in health or social work settings.
Each partner had a specific area of expertise that contributed precisely to the programme and enabled them to benefit from skills, knowledge and experience of others in Silver Stories. In this way, the combined impact of a collaborative partnership like Silver Stories is significantly greater than the sum of the individual parts and Silver Stories leaves an immediate legacy by:
Integrating Digital Storytelling into the training of professionals working with Stage 3 (active) and Stage 4 (frail) older people through training and the development of quality assured modules. These modules have been extensively tested during the two-year programme and can be downloaded from this site. Module 1. Module 2

Developing sustainable professional expertise in the provision of Digital Storytelling Workshops for a range of beneficiaries in each of the participating countries. The partners have completed a Guide for those who are working in or entering the caring professions, such as health, social care or community settings, who wish to use Digital Storytelling as part of their professional toolkit. It is designed to support Digital Storytelling facilitators, or prospective facilitators when they have completed a Digital Storytelling Facilitators' Workshop that has been delivered by experienced and recognised Digital Storytelling practitioners. It is not a 'do-it-yourself' guide for aspirant digital storytellers, as we believe that it is fundamentally important for anyone who wishes to facilitate a Digital Storytelling workshop to have experienced the process first hand, for themselves. Digital Storytelling Workshops - A Guide for Facilitators

All partners are committed to developing a sustainable legacy for Silver Stories. Dissemination through a range of activities (conferences, publications, showcase events) and long-term partnership building are key elements of our programme and will be promoted and published through this website. Silver Stories has been evaluated by the Centre for Urban and Community Research and a copy of the Silver Stories evaluation report is available here.
The final partnership conference, held at IPL Leiria, Portugal during May 2015, attracted international delegates in response to an international call for papers. UoB, DigiTales and IPL worked closely together to programme the conference with a mix of material from inside and outside the partnership. The conference provided a platform for the project, placing it in an international context.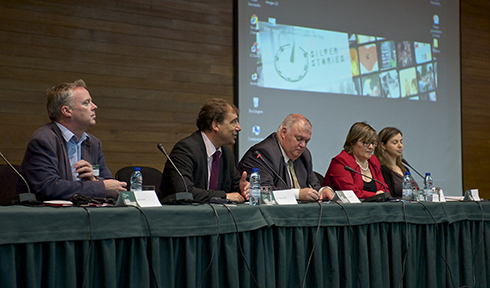 A significant number of research papers have been given at national and international conferences. These have included: Athens (DigiTales), Biennial Qualitative Research Conference (Progress Foundation), Azores and International week at IPL, MECCSA in the UK (Digitales), Media Education Summit in Prague (UoB and Digitales) George Ewart Evans Centre for Storytelling – Storytelling and Activism Conference, keynote (UoB), RIDERS (UoB) and Troubling Narratives (UoB).
The Fourth International Visual Methods Conference at UoB in September 2015 showcased Silver Stories and the biennial Digital Storytelling Conference in USA during the same month featured presentations from DigiTales and UoB. The Silver Stories exhibition was hosted by UoB in August 2015 and included an IT and Cake event designed to promote the work to older people across Brighton. One visitor encapsulated the interest the project frequently provokes: 'Wouldn't it be nice if you could use this model for the local community of Brighton and Hove to enrich the old here.'
The exhibition will tour across to Finland, Romania and Slovenia in 2016.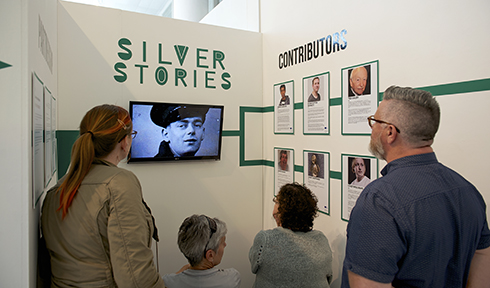 For Further Information Contact
Mark Dunford, Principal Investigator – m.dunford@brighton.ac.uk
Sarah Macnee, Project Manager – s.macnee@brighton.ac.uk
Isobel Creed, Research Officer – i.creed@brighton.ac.uk