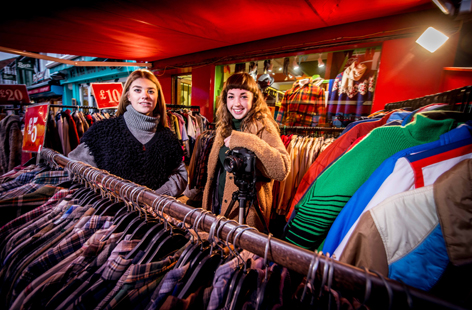 Two University of Brighton Faculty of Arts students have scooped a national award for their film on Brighton's culture and fashion.
Photography BA(Hons) student Lauren Maccabee and Graphic Design BA(Hons) student Kate Jefferies, collected £1,000 from ASOS, the UK's largest independent online fashion and beauty retailers.
Lauren, stayed behind the camera, filming Kate, around Brighton's shops. Kate worked on the film's editing.
Lauren said: "Kate incorporates fashion in her university project. She lives in the North Laine, the cultural, shopping and residential district of Brighton. It's very vibrant and unique, and contains about 400 independent shops, cafes, and bars."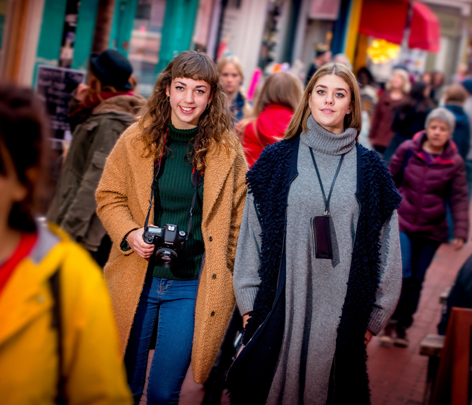 Image: Lauren Maccabee and Kate Jeffries
Students taking part in the contest were asked to nominate a friend as subjects for three-minute films for Asos's national Student Lowdown campaign which explored the style, music, culture, nightlife and the people from each film location.
Lauren said: "I nominated Kate and she happens to live in the centre of Brighton which is why we filmed there.
"Brighton is such a unique place; there's something really exciting about being able to study in such a creative environment. I love working with people from different courses as well. It's good practice and fun to collaborate with others at the Grand Parade campus.
"There is a really great mixture of everything going on, there's always something to do and all of the art courses are of an incredibly high standard. It's exciting to be surrounded by talented and motivated people.Top Image: Faculty of Arts film winners Lauren Maccabee (left) and Kate Jefferies.
ASOS Competition Entry from Lauren Maccabee on Vimeo.