MA Sequential Design/Illustration, MA Arts and Design by Independent Project, MA Photography and MA Performance and Visual Practices
MA Photography
An exhibition of work by their final year MA Photography students.
After Desire
showcases new work from ten photographers and artists working with photography. Melodrama, history, the idealisation of the male body in classical sculpture, the transmutation of the cinematic image in the digital era, lost loves, still lives and childhood stomping grounds provide some of the subjects for the diverse work on show, tied together by the animating role of desire in the photographic experience.

Private View: 18 September 5.30pm-9pm
Exhibition Opening Hours: 10am-5pm Mon - Sat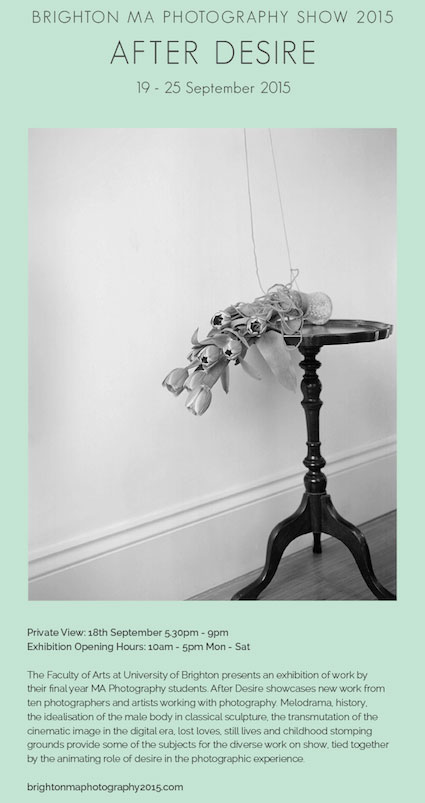 MA Sequential Design/Illustration, MA Arts and Design by Independent Project
MA2015 showcases diverse new work by students graduating from the MA courses in Sequential Design/Illustration, and Arts and Design by Independent Project at the University of Brighton. Students come from a wide range of disciplines with backgrounds in illustration, textiles, interactive digital design, fine art printmaking, graphic design, puppet making, art therapy and filmmaking.
The highly acclaimed Sequential course attracts new and established illustrators, designers and makers keen to explore the principles of sequence within their chosen field. Work featured in the exhibition – ranging from a mixed-media exploration of the impact of 'disordered' thinking on creative cognition to a day in the life of footballer Ashley Barnes illustrated by the Dewey decimal system – demonstrates the diversity of individual research. Other work considers the animators of pre-cinema and their demons, hidden stories in family photographs, a Taiwanese black bear's quest to travel to the Arctic and the history of cutlery through time and space.
The Arts and Design by Independent Project course encourages experimentation and innovation within a specific area on a central project. Areas of study and possible outcomes are hugely varied. This year's show includes an interactive timeline of early 20th century graphic design and a short film incorporating the styles and techniques of early cinema. One Independent textile artist draws comparisons between exquisite lace pieces and the solitary working conditions of lace schools during the 1800s while another uses sculpture and photography to evoke the silencing of identity by dementia.
These internationally recognised postgraduate courses support self-initiated individual projects and help students to develop an informed, critical and imaginative view of their subject. This exhibition is a testament to their unique creative inquiry.
Exhibitors: Sarah Arnold, Baozi Chen, Christine Chester, Lee Christien, Richard Clarke, Sheena Dawson, Joe Evans, Fang Liu, Adrian Gauci, Ruby Hermon, Hyeeun Kwon, Joe Lau, Byounghak Lee, Olym Lee, Julian Mallia, Lucy Mazhari, Alba Peris Rueda, Dagmara Rudkin, Xing Song, Madeleine Swift, Louise Wishart, Min-I Yen.
For information on participating artists contact the course leader Margaret Huber at m.huber@brighton.ac.uk
For course details contact the course administrator Linda Finch (tel. 01273 643041) L.J.Finch@brighton.ac.uk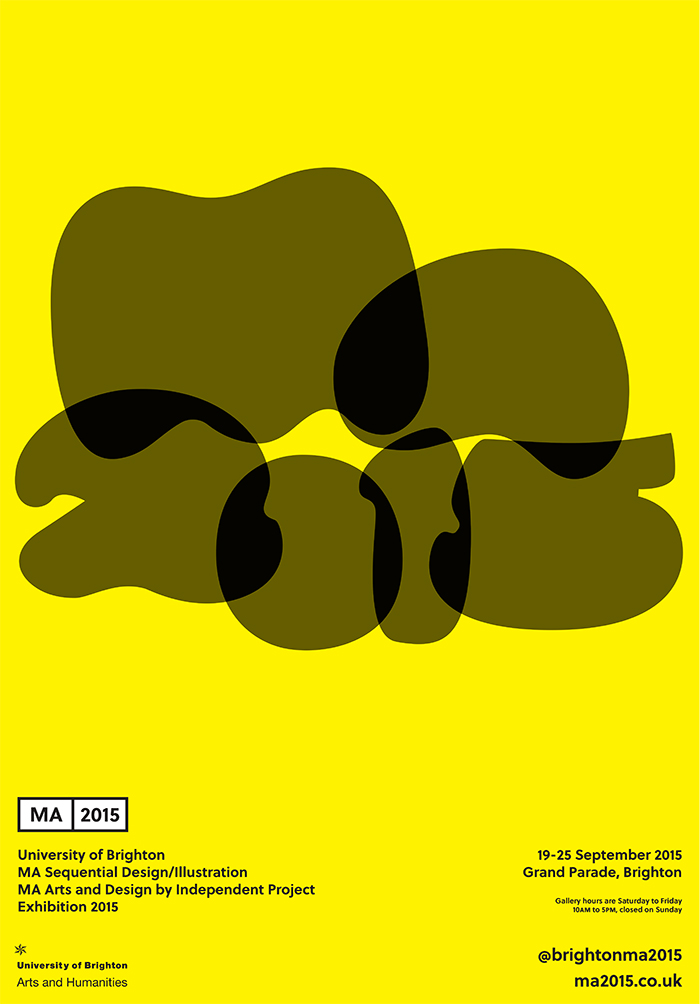 Exhibition continues 19-25 September 2015
Gallery hours: 10 am–5 pm.
Closed Sundays.
MA Performance and Visual Practices 2015
Private View, Friday 18 September 2015, 5:30 – 9pm
The MA Performance and Visual Practices 2015 will be showing new work by students graduating this year at the University of Brighton. The work will be on show in the Sallis Benney Theatre, on the big screen and where you might least expect it. The work asks, what it takes to be cool, gives you the chance to choose and delves into Biophilia.
Exhibitors: Angel-Rose Denman, Jenn Harper and Amanda Cox.