Gurus and Grasshoppers: A Community of Practice in Graphic Design
Ian Newsham and Louise Buckingham, De Montfort University
This case study reports on the findings of an approach to peer learning and assessment involving level four (first year undergraduate) and level six (third year undergraduate) students following Graphic Design programmes at De Montfort University. Born out of 'peer assessment' the Graphics 'Guru and Grasshopper' scheme has been developed and refined since 2007/8. The practice, initially des...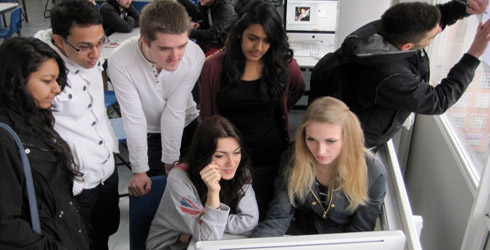 Keywords:
peer assessment, peer learning, graphic design, illustration, photography
Abstract
This case study reports on the findings of an approach to peer learning and assessment involving level four (first year undergraduate) and level six (third year undergraduate) students following Graphic Design programmes at De Montfort University. Born out of 'peer assessment' the Graphics 'Guru and Grasshopper' scheme has been developed and refined since 2007/8.
The practice, initially designed to strengthen links between courses and levels, improve course ownership and deepen understanding of assessment criteria, produced unexpected added value to students. Level four students (Grasshoppers) describe their improved skills development, and the benefits of the cross-level nature of the work. Level six students (Gurus) articulate an experience that has stimulated a deeper understanding of their work, as well as developing skills associated with sharing knowledge and developing skills of others.
The lecturers involved recognise how the scheme contributes to level four induction, and the increased confidence of level six students as well as the overall improvement in course cohesion.
As a result of the success achieved, further subject disciplines have applied the scheme in their context.
Context and rationale
Peer assessment has been an embedded part of the learning experience for students studying Graphic Design courses at De Montfort University since the mid 1980s. The peer assessment system has been used across all three years of the degree programme, mostly as part of formative assessments. The assessment form (see Appendix 1) completed by the assessor and the student being assessed, is used to guide and record outcomes of a peer assessment process.

Level four students following Graphics-based programmes at De Montfort University arrive with a diverse range of qualifications and experience that can present an inconsistent portfolio of skills. Additionally, the Professional Practice module followed by level six students requires a context where students are required to develop their professional skills.
As a result of the growing number of students following Graphics-based programmes, the staff/student ratio was increasingly challenged and peer learning and assessment was regarded as potentially enhancing the learning process.

Description of the activity
The Graphics Guru and Grasshopper scheme developed from this context to:
i) strengthen student links between courses and across years on a high recruiting suite of courses
ii) give ownership of some of the course to the students and strengthen a sense of collective responsibility
iii) provide an opportunity for 'studentship' to result in marks and effect degree classifications
iv) involve all students in the assessment process and therefore reinforce an understanding of the process and assessment criteria.
1) Pilot project
As a logical development of the peer assessment system, in 2008/9 the idea promoted was that level six (18 students) illustration students (Gurus) could mentor/teach level four (50 students) illustration students (Grasshoppers). It was suggested that level six students would set and mark work under tutor supervision, demonstrating the essential basics of the graphic design and illustration course. This process provided an opportunity for students to experience, and demonstrate, some of the skills required for the professional practice module (30 credits). The activity took place in the first term when the first year students had just arrived and before the pressure of degree examination became too intense for the third year Gurus.
The Gurus grouped in teams of three or four and designed three projects to teach the basics of printmaking, Photoshop and animation. They assessed the results of the projects against the assessment criteria on the progress/assessment form and awarded up to five formative assessment marks to the level four illustrators (Grasshoppers) in their first year module (30 credits).
Through discussion, in teams of approximately 10 students, the Grasshoppers assessed and allocated marks to their Gurus using criteria developed to assess Guru activity (see Appendix 2). These criteria were mostly related to how the Gurus structured, delivered and presented information. Because of the confidence grown out of the success of the peer assessment system the Grasshoppers allocated up to five marks to their third year Gurus, again with tutor overview.
2) Further Development
As a result of the success of the pilot project, in 2009/10 the Graphic Design course team decided to expand the Guru and Grasshopper Scheme to the three courses, Graphic Design, Graphic Design and Photography and Graphic Design and Illustration. Structured in the same way, with the addition that each Guru team included at least one level six student from each of the three Graphic Design courses, the Gurus set three separate projects focussed upon the basics in Image-making, Computer Aided Design and Typography. Additionally, the Grasshopper teams included a mix of photographers, graphic designers and illustrators.
The scheme was a voluntary additional commitment for both Gurus and Grasshoppers which, with the incentive of achieving additional marks, attracted participation from 117/140 (84%) Grasshoppers and 63/90 (70%) Gurus. Studio space was available, and non-timetabled sessions were identified for student groups to meet. Again, the activity took place during the first term.
The lecturer's role involved: designing the parameters of the brief, learning outcomes and assessment criteria; allocating students to groups; and generally taking on the external adviser/moderator role. Support for Gurus included an introductory session and overview of expectations and responsibilities.
During this stage the scheme was supported by a central learning development team developing peer-mentoring practice across the university. This enabled the practice in Graphic Design to be supported by the production of data analysis of outcomes, networking opportunities across the university and dissemination opportunities via staff development events.
Evaluation and Outcomes
Gurus and Grasshoppers were invited to complete an evaluation questionnaire at week 11 of the 2009/10 project. Open questions invited students to comment on the positive and negative elements of the experience, as well as suggest areas for improvement (see Appendix 3/4 for questions and outcomes).

98% of Grasshoppers referenced a positive experience, as a result of being part of the scheme. More specifically, nearly half (41%) identified their skills development as a positive outcome and 20% referenced the help and advice received, including help and support for wider University/Course issues. Grasshoppers use vocabulary such as 'fun' and 'enjoyable' to describe their experiences and the benefits of 'communication with new people'; a few students observed that the Guru scheme 'made their group closer'.
The cross-level nature of the experience (third years working with first years) was a further positive theme, with a third of Grasshoppers making a positive reference to working with 3rd year students, with comments such as: 'discussing ideas with people 'who were in my place''; 'it was like having older brothers or sisters'; and 'learning what to expect from future years'. Some Grasshoppers identified the Gurus as more approachable (than lecturers?) stating 'I feel I can go back to them to ask for help on other projects'.
The range of information and skills gained by Grasshoppers includes research methods, responding to constructive criticism and self-development of ideas. One student stated that the scheme: 'helped to develop a body of work I am proud of and will continue to develop in my own time'.
Interestingly, perhaps initially motivated to be involved by the incentive of the additional marks, only one student from the 39 Gurus who responded, referenced the additional marks as a positive outcome of the Guru experience. This evidence illustrates that Gurus identify and value broader outcomes more highly than simply gaining additional marks.
The outcomes for Gurus represented a much deeper learning experience. Personal development was an outcome of the experience, with 13% citing their increased confidence, 15% reported that the initiative provided altruistic outcomes of personal satisfaction of helping others and 'passing on things I wish I'd known myself' and 15% referenced the enjoyment of being involved in the scheme.
From working with the Grasshoppers, Gurus learnt about their own work with 21% citing an increased understanding and experience of grading/assessment. One Guru reflected that the scheme 'made me realise, I need to step up my game' and another recorded, 'I now have knowledge of what makes good work'. Gurus acknowledge that the experience facilitated reflections on their own performance and development over the three years. For example, one student said that it 'made me reflect upon previous years'. Such reflections, in turn, made students realise the development of their own work and, for some, prompted recognition that they previously put in more effort: 'I used to work a lot harder'.
The experience of 'teaching', and the tutor's perspective was another significant positive outcome for Gurus illustrated in the following statements; 'it's been a good experience, you learn to find out how you really handle situations' and 'realising teaching is not as easy as it seems'. Gurus could see the benefits of 'seeing the tutor's point of view'. One student commented, 'It's been a valuable experience and learning process as well. I finally empathise with the tutors and what we must have been like two years ago.' One student predicts how this experience will impact on their further learning; 'Now when I haven't done the work, it will make me want to work harder'.
The associated skills development was a further positive element of the Guru experience; a number of Gurus identified their improved communication skills and the experience that contributed to their Curriculum Vitae (CV).
Finally, the benefits of group work; 'learning from other Gurus, sharing knowledge' and 'working with people I don't know', was also identified as a positive outcome. Some Gurus agreed with Grasshoppers and valued the cross-level working, getting to know the first years and seeing the development of ideas.
One of the main areas identified for further development was attendance at sessions. As a non-compulsory additional activity attendance was not monitored. However, 69% of Gurus cite poor attendance of Grasshoppers as an area for development. Grasshoppers endorse this view, as they mention the poor attendance of other Grasshoppers as a negative element of the experience. To address this issue, from term two 2010, the scheme became an 'opt out' rather than 'opt in' option when it was expanded further to include year two (level five) students as Gurus working with level four Grasshoppers.
Year one enthusiasm waned over the year with poorer attendance at year two Guru sessions being the result. Therefore, as one might expect, the year two Guru / Grasshopper feedback, although still positive, is slightly less positive than the earlier year three related feedback.
The external examiner highlights this aspect of the scheme:

In particular, the 'Guru' scheme continues to be highly valued by staff and students. From various sources of evidence, I can confirm that its positive affects can be found across all areas of the course. A minor reservation is that the Guru scheme is optional, which means that not all students participate. Perhaps predictably, it was the weaker students who generally failed to capture these opportunities.
Interestingly, in practice, the students who chose to not engage would be classified as the 'more confident' students.
The lead lecturer's perspective here illustrates the impact on workload with a minimal reliance on the staff involved:
The whole activity proved to be very easy to run and organise, with most of the detail handled by the students themselves, meeting times, attendance, discipline, etc. Staff had very little to do after they introduced the idea and organised the Guru/Grasshopper teams, other than be a presence on Guru day and be around as moderators on assessment day.
The lead lecturer observed that students on the whole proved to be very honest and accurate in their assessments of each other's work and there is instant peer-to-peer feedback and clarification of what was written on the duplicate assessment sheet. In a minority of cases the lecturer amended the marks and in most cases these adjustments were in an upward direction. Concerns about fairness and equitability have proved to be unfounded. The symmetry of the mutual marking promotes an emphasis on fairness and the whole activity is treated very seriously. Staff are usually consulted in the external examiner / moderator role on only a few generally marginal decisions. The process obliges the students to apply and, therefore, understand the assessment criteria. It explains, through practice, the marking process, the value of the marking team and the role of the external examiner. It promotes analysis and discussion of work, which has positive consequences in the rest of the course.
These findings have been validated by the external examiner:

I found the assessment strategies to be appropriate to student need, capturing many opportunities for innovative and enhanced practice. Notably, the 'Guru Scheme' is effectively integrated into assessment practice through sensitive means, which enhance the overall impact of the process by promoting student participation and understanding – I would highlight this as a model of good practice.
The group-work taking place in the studio spaces provided an industrious and vibrant atmosphere. An unintended outcome of the activity related to the timing of the Guru sessions, which coincided with interview days for prospective students. The examples of group self-directed activity provided a positive illustration of learning in action, in particular a community approach to learning on Graphics-based programmes at De Montfort University.
On a large heavily timetabled course the different year groups do not meet each other. The timetable tends to oblige the same groups of students to constantly move around together. As a consequence they tend to only mix with the relatively small group of people they are timetabled to be with. As a consequence of the Gurus and Grasshoppers scheme, the suite of Graphic Design courses are more unified; the three courses have greater cohesion, both horizontally within the years and now vertically between the years.
As a result of the year two Guru sessions, there will be an existing vertical relationship every year between the new third and second year students, again strengthening course cohesion. In 2011/12 all the Graphic Design students will have had experience of being Gurus and Grasshoppers.
For Gurus in particular the scheme has value in the development of professional skills that contribute towards their employability. 'Guruing' has become a CV item for all the third year students, and particularly important to those who were interested in pursuing a career in teaching. For some, the relationship established between Gurus and Grasshoppers has been sustained beyond the 'life' of the Gurus and Grasshoppers experience. In some instances relationships have been sustained and a dialogue is now taking place between employed Graphics graduates and De Montfort University students.
At De Montfort University there has been interest in the Guru and Grasshoppers scheme from other subject disciplines; Game Art, Photography and Video, and Bio-Medical Sciences. It would be particularly interesting to see how the scheme translates to different disciplinary contexts.
From experience of this development, key factors that contribute to the success of the scheme are:
Marks for the activities, which really mean something. Five marks in the Graphic Design Professional Practice module have the potential to change a grade band for example, from 2:2 to 2:1.
An allocated non-timetabled period when both year one and year three students are available at the same time.
A member of academic staff loosely available on the day.
The Gurus and Grasshoppers exchange mobile phone numbers and e-mail addresses.
Gurus set up Facebook groups.
Contact information
inewsham@dmu.ac.uk
http://gurugrasshopperblog.tumblr.com/
Biographies
Ian Newsham is programme leader for Graphic Design and Illustration at De Montfort University. Ian found school a bit of a puzzle because of Dyslexia and as a consequence he has spent a lot of time thinking of ways around problems, which is a partial explanation of where Gurus and Grasshoppers came from. When not working at DMU Ian likes to illustrate children's books.
Louise Buckingham is Academic Team Manager of the Centre for Learning and Study Support based within Library and Learning Services at De Montfort University. Louise's role involves supporting the diverse range of students and working in partnership with academic colleagues to develop practice that promotes student engagement with Higher Education.
Prior to her current role, Louise led the coordination of Peer Mentoring across the University. This activity is discipline owned, contextualised to the course context and can be evidenced in the form of peer learning, assessment, and mentoring.
Appendices
Photos: Ian Newsham
Listing and header photos: 'Guru and Grasshopper' students at De Montfort University
Ian Newsham and Louise Buckingham, De Montfort University
brightONLINE student literary journal
23 Apr 2012