The Routledge Companion to Research in the Arts
Tracy Piper-Wright, Glyndwr University, Wrexham
Biggs, M. and Karlsson, H. (Editors), (2012), Routledge. .......... The Routledge Companion to Research in the Arts is a comprehensive overview of 'the state we're in' with regard to academic research and doctoral education in the creative arts and explores in some depth and breadth the issues and problems of arts based research. This is not an anthology of writings from the last decade collect...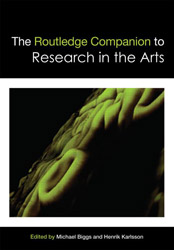 Editors:
Michael Biggs and Henrik Karlsson
Publisher:
Routledge
Publication date:
2012
ISBN
: 978-0415-697941 (paperback)
Price:
£29.99
The Routledge Companion to Research in the Arts is a comprehensive overview of 'the state we're in' with regard to academic research and doctoral education in the creative arts and explores in some depth and breadth the issues and problems of arts based research. This is not an anthology of writings from the last decade collected and re-packaged, but instead a set of specially commissioned essays from a strong showing of international writers and thinkers on the routes and range of contemporary research practice. The contributors were brought together to talk through the issues in person before the texts were finalised, which gives the book a coherent feel of conversation between voices rather than a set of individual proclamations on the subject. This permits a level of freshness to enter the material, which is particularly relevant for those who have already eagerly digested other major arts research texts such as Barrett and Bolt (2007) or Sullivan (2005). While this book does touch upon the practicalities of the research process, it is far from a 'how to' or a set of exemplars, although examples of different research projects and methodologies are present. It is much more about the debates art practitioners and academics should have when we embark upon research and the questions we should be raising for potential PhD students.
The book is divided into three sections – 'Foundations', 'Voices' and 'Contexts'. This structure sets out a linear trajectory in the essay topics beginning with discussions which explore how university cultures have influenced the direction of research in the arts and the philosophical relationship between creative practice and academic organizations. The second section, the longest of the three, provides examples of how arts based research tests and challenges existing methodologies; how it invents new ones and offers alternative readings of the research universe which it 'writes back' to the academy. The essays in the final section discuss how researchers in the arts relate to the wider research community, and how diverse research outputs might be communicated effectively and therefore perceived as valuable.
The overriding flavour of the anthology is interrogative; it is the 'problematic' of the relationships between artworks, artistic practice, research and the academic, educational and social structures in which these activities take place that is, if not the sole focus of many of the essays, certainly the prolegomena to many. Words such as 'disagreement', 'dilemma', 'problem' and 'conflict', come thick and fast at the start of the book and introduce the reader to a landscape which remains challenging for arts research despite its inclusion in the academic arena for the last decade.
A central question in 'Foundations' is how we differentiate between art practice and art practice as research. While there is still discussion of how artworks might come to represent knowledge in this section, the relationship between practice and research as distinct modes of operation appears to be a profoundly more interesting question to wrestle with, based as it is in process and phenomenology, as opposed to the epistemological status of products. In their essay Michael Biggs and Daniela Büchler explore how 'practice' and 'research' form two distinct communities with distinct expectations, and how disjuncture between these creates dissatisfaction with the homogeneity suggested by terms like 'practice based research' and gives rise to the worrying possibility of good research leading to bad art.
Their suggestion is the further promulgation and strengthening of a distinct practitioner-researcher community; a self-monitoring third corridor with its own values and conventions which can judge the worth and credibility of the research and the art produced. This appears to be happening as arts research gains momentum and provides further evidence of why the arts must actively maintain an authentic research culture rather than using approaches that pertain to other disciplines.
If 'Foundations' gives us pause while we consider what we are getting ourselves into, the second section, 'Voices', takes us straight into the heart of this research community. In this section the full excitement of what arts based research could be is explored. Perspectives from visual art, music, dance and creative writing give a real, live sense of the diversity of methods and approaches but also a strong sense of arts research as a definable field of activity, with subject specific detail giving way to modes and terminology which are inherently transdisciplinary in their formation and 'multi-modal' in their creation and output. This set of essays gives the researcher in the arts a sense of a community of shared values and approaches which have resonance across creative disciplines with theoretical consideration of issues such as embodiment, performativity, materiality, handling and temporality coming together across the section to create a sense of both creative enrichment and intellectual rigour. Many of these essays explore the in-between-ness of artist researcher practice, and provide examples of research which explore the rich territory between the linguistic and non-linguistic: territory which most artists, art academics and researchers find themselves immersed in.
The third section, 'Contexts', provides tangible application of the theoretical ideas from Section Two combined with the awareness of the historical context from Section One. This final set of essays explores issues such as the quality and validity of research outputs and the benefits and purpose of training in arts based research. This section is particularly helpful as a means through which to discuss the wider implications of research in the arts with PhD students, and to give them an understanding of the scope and goals of artistic research and as they enter and negotiate that critical community.
The Routledge Companion is a rich resource for those engaged in research as academic practitioners, and those teaching masters or supervising doctoral students. In these latter contexts it is useful to those engaged in the discussion of research methods in the arts and provides students with an important sense of context in which their research outputs might find their voice. For academic practitioners, the essays provide a way to consider how practice might be articulated as research, and evidence of a shared research environment in which they can approach this with some authenticity. Each essay is packed with references to what is now becoming a rich literature on arts research and a useful resource through which to explore the complexity and diversity of approaches in the field.
The essays demonstrate how research in the arts is enabling new ways of thinking which challenge dichotomies and perceives fuzzy boundaries not as sites of difficulty but as sites of opportunity. Embracing this type of pluralistic approach doesn't side-step the problems that arts research faces or gives rise to, but reminds us that it is the search for new and better questions, rather than the satisfaction of easy answers, that drives both creativity and research.
Reviewer
Dr Tracy Piper-Wright is Lecturer in Fine Art at Glyndwr University, Wrexham.
References
Barrett, E. and Bolt, B (eds) (2007) Practice as Research: Approaches to Creative Arts Enquiry, London, IB Tauris.
Sullivan, G (2005) Art Practice as Research: inquiry in the visual arts, London, Sage Publications.
Tracy Piper-Wright, Glyndwr University, Wrexham
brightONLINE student literary journal
13 Jul 2012