Only connect: an integrative, participative approach to writing through film that promotes the experiential over the theoretical
Simon King, Royal College of Art
Through a series of city-related film viewings, students respond through pre- and post- viewing discussion and reading-related activities to produce a series of visual and content-related written responses that form a portfolio of experiential and experimental writing – a key course outcome on the English for Academic Purposes (EAP) summer pre-sessional at the Royal College of Art. This articl...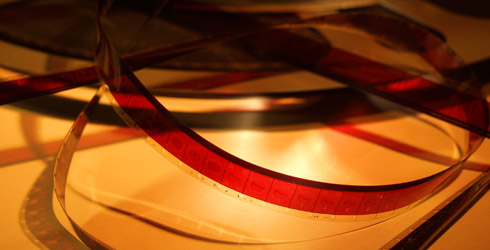 Key words:
film as primary resource, interdisciplinarity, integration of content, student-centredness, exploratory, experiential and experimental writing, lines of thinking, transferability
Abstract
Through a series of city-related film viewings, students respond through pre- and post- viewing discussion and reading-related activities to produce a series of visual and content-related written responses that form a portfolio of experiential and experimental writing – a key course outcome on the English for Academic Purposes (EAP) summer pre-sessional at the Royal College of Art. This article is an account of the rationale for City Visions and presents student accounts of their experience of the 2011 course. It also proposes points of transfer and enrichment to the wider context of degree programmes.
Introduction
Two fragments:
Glasgow is a magnificent city,' said Thaw'…Think of Florence, Paris, London, New York. Nobody visiting them for the first time is a stranger, because he's already visited them in paintings, novels, history books and films. But if a city hasn't been used imaginatively by an artist not even the inhabitants live there imaginatively (Alasdair Gray's Lanark quoted in Clarke, p.19).
I was very interested in the possibilities of the films. They made an impression on us, causing us to rethink our identity, nationality, humanity and so on. I think that these elements relate to our art work deeply …(Student participant, City Visions, RCA Pre-sessional, September 2011).
The Context for City Visions
My professional context may be unusual in that itencompasses working two days a week as an English for Academic Purposes (EAP) tutor at the RCA, while elsewhere I am a Contextual Studies lecturer on undergraduate programmes in Art & Design (A&D) at the University of Arts, London; specifically, London College of Communication and from January 2012, Central Saint Martins.
These two aspects inform my approach through a pedagogy that emphasizes, inter alia, student centredness, guided discovery, and peer learning, and which draws on a broad knowledge of, and interest in, visual culture. Indeed, film is something I am particularly interested in. I use it both as a resource in my teaching, while outside of work I participate in regular 'pop-up cinema' evenings in south London.
What Alasdair Gray has to say (above) about art enabling an imaginative inhabitation of place is certainly true of film and was an assumption underpinning the design of City Visions in 2002 when I first began teaching on the pre-sessional at the RCA. The locations in which the films are set including London, New York, Paris, Tokyo, Berlin, Rio de Janeiro and Tehran – would be 'known' either personally, anecdotally, or imaginatively by an international mix of studio-based postgraduates (and in this year's pre-sessional these numbered 33 students – a mix of Pacific Rim, Middle Eastern and European - from 12 nationalities going into 12 of the 20 art and design (A&D) departments at the college).
City Visions: Content and Skills
As a strand City Visions has three elements each week:
In the first session there is a full viewing of the film – with the first two films this is accompanied by a 'while viewing' task sheet requiring students to note down aspects of the film that are of interest e.g. cinematography, characterisation, plot, motif and so on, for discussion in the second session (student familiarity with this approach after the first week or so means that there can be less reliance on such guided activities in subsequent weeks).
In the second session, there is initial group and whole class discussion of these points of interest leading into a film-related reading – either a review and/or a more analytical text relating to the film. The approach that is established is that students should practice the skills of 'text attack' i.e. they should focus on what they do understand rather than on what they do not (one approach here is that of 'SQRRR' – 'Survey, Question, Read, Recall, Review'). I encourage the use of what I call 'hotspotting', that is where students mark the text, perhaps using a highlighting pen for discussion and possible later incorporation as quotation in their writing.
In the final session, towards the end of the week, students request the viewing again of key scenes for discussion. This is an opportunity for the generation of language around the film – technical, aesthetic or thematic - that can feed into the portfolio writing. Specifically, this includes with a steady increase in word count: a response to the first film (week 1), a comparison and contrast of film one with film two (week 2); the incorporation of secondary sources (week 3), and a final piece of writing (the word 'essay' is also used) which may be on a continuum between the experimental, the journalistic, or the more analytical and which features one or more of these sub-skills.
International students at the RCA
The interdisciplinary aspect of the pre-sessional - bringing together, for example, students from A&D backgrounds and disciplines as diverse as Painting, Vehicle Design and Fashion anticipates the ethos of the College – what the previous rector Sir Christopher Frayling has characterised as an 'ideas factory' or 'Art in a Design College, Design in an Art College' and which is exemplified in such college-wide collaborations as Across RCA and the student-led initiative Department 21. These are points in the year when students can step out of their 'design tribe' delineated by a particular culture, ethos, set of skills and techniques (to use a colleague's analogy).
This context – one in which students work outside of their chosen field governs the rationale of the summer pre-sessional. For those not familiar, a pre-sessional is a course that international students take in order to prepare for their UK degree programmes. At the RCA, aside from the general aim of providing practice and increasing fluency in English, the curriculum is designed to enable: an immersion in art and design cultures as experienced and exchanged by participants; a focus on contextual, reflective and expressive responses to those practices and to the environment in which they find themselves; and, a mode of student-centred teaching that suits such studio-based students (through, for example, student-led presentations; discussion-based activities; and problem-solving). The teacher here occupies the principal roles of resource and facilitator.
In terms of its constructive alignment with the rest of the course, City Visions is predicated on these core elements. In its design, I kept in mind such questions as, 'Why this approach and this medium with these students?'
In seeking to answer this and to suggest how distinct our approach might be from an approach to EAP in non-A&D contexts, I offer the following generalisations:
As studio-based students, their sources are possibly words but probably not. The following feedback comment is representative:
Writing is a weak point for me and even in my own language it is hard but during this course I could practice this and learn how to communicate my own line of thinking...
As practice-based post-graduates in an institution where the Heads of Programme themselves are appointed generally because they are making work and not publishing it, our students draw upon sources other than writing to communicate their process. To impose an acculturation model of academic writing, therefore, is inadequate in this context. City Visions, rather, is an integration of viewing, discussion, reading and writing tasks around four films. It emerged out of the 'Blade Runner' project developed at Goldsmiths, which ran on full-time EAP pre-sessionals between 1997 and 2002, with the aim:
… to develop the thinking, critical analysis, language and writing skills in an integrated approach through content. … (Writing PAD, 2004)
Transferability: Seminar rather than lecture format, guided discovery rather than transmission
This development of thinking, critical analysis, language and writing is facilitated by integrated activities – discussion, reading and writing - following the initial viewing of that week's film.
We had to approach the first three writings differently and consequently this gave us an idea of how comfortable we felt and how to express ourselves better. It has been very interesting to write in different ways first. In the last writing we could include quotations, compare films and write about a single concern or feeling related to the films. Using these methods I learned how to avoid generalisation ...
I liked the tutor's manner, that is, he did not try to inject definite ideas about the films and let us go far and deep without giving any judgement …
These comments reflect something of the collaborative and peer-learning approach and how we can have an effect on the way that writing relates to the visual, to practice and to the student's experience.
The relatively small cohort allows for a seminar-style series of small to whole group interactions rather than a lecture mode of delivery where the students might defer to an 'all seeing, all knowing' expert. Rather, in alignment with constructivist principles, the role taken is more that of facilitator. The anecdotal observations above about how students experienced learning, also finds support in the literature:
'Most people learn…
10% of what they read
20% of what they hear
30% of what they see
50% of what they see and hear
70% of what they discuss with others
80% of what they experience personally
90% of what they teach someone else' (Glasser, 1988)
Transferability: The strength, richness and diversity of film
None of us can ever retrieve that innocence before all theory when art knew no need to justify itself, when one did not ask of a work of art what it said because one knew (or thought one knew) what it did (Sontag, p.2).
The context then is EAP but the emphasis on the non-hierarchical, experiential, and interdisciplinary is a model that has wider application for teaching and learning in Higher Education. Specifically, the immediacy of film – the act of viewing and responding to it – can represent a radical alternative to a lecture-led course that might evidence little more than the selection and editorialising processes of the person leading it.
In brief, I assume the following:
Film is a visual medium and its multi-modality, for example, the use of lighting, colour, scenery, composition, sound, as well as consideration of plot, pace and character, lends itself to the activities and outcomes outlined above.
As an increasingly digital and therefore economically democratic medium, it is an adjunct of practice for many students.
Students are familiar with film viewing and generally like it.
The 'city' theme is relevant to the experiences that students face when they first come to London – exemplified in the opening London-based film, Dirty Pretty Things.
Without the space to explore it here, however, I can only emphasise at this point that the general course philosophy is one that acknowledges and works with the quality that unites the cohort – their visual acuity – what Sontag might recognise as 'innocence' before the imposition of explanation or metanarrative. That is, the students engage with the subject matter or aesthetic of the film and rather than respond to it canonically, they respond to it experientially. Heinz-George Gadamer's recognition and connotative rehabilitation of the role of 'prejudice' is wonderfully apt:
Prejudices are biases of our openness to the world. They are simply conditions whereby we experience something – whereby what we encounter says something to us. (Gadamer, 1976, p.9)
An experience that unites many of the students on the course is that of being newly arrived in London with the attendant problems of settling in and finding accommodation. The choice of films – this year, Dirty, Pretty Things (London), Lost in Translation (Tokyo), Wings of Desire (Berlin) and Persepolis (Tehran, Vienna and Paris) offers a synchronicity. The following student comment about identification with the protagonists is typical:
Watching the movies was also a really good idea because we could subsist the idea of 'being lost' in several layers, which reflects my current feelings of the present. I could never have imagined that moving away from my home country could be this hard …
Transferability: A space for the experimental as well as academic
It would be erroneous to talk of the city as a singular, unified social reality that we have all experienced, participated in, or have an understanding of. Such a city does not exist. More appropriate to this discussion are images of a city, a multi-faceted city that represents ideological concepts, economic forces, and social spaces that reflect a diversity of cultural, historical and geographical markers. (Siegel, A quoted in Shiel M and Fitzmaurice T, 2003, p.143)
A main strand in the thinking behind City Visions is the recognition that the majority of our students, with a median age of 26, some with international reputations and in the main studio-based, are more likely to engage with practice, and subsequently develop writing that is free, expressive, creative and experiential – an adjunct perhaps of their future writing at the RCA. There is a bridge here for some to integrate this type of writing with more analytical or theoretical elements through the suggestion and provision of more academically pointed supplementary texts and the students' own research). This is always left open and it is not the aim of the course to turn out film theory savvy apprentice intellectuals.
The following is a representative list of students' own titles – a typical mix of expressive and more analytical offerings - for the final piece of writing over the last few years:
''Wings of Desire': The Harmony of Opposites'
'The Colours of Desire'
'The Daily Life: A Comparison of 'The Potato Eaters' by Van Gogh with 'Wings of Desire' by Wim Wenders'
'Aesthetics of Coexistence and Isolation'
''When a child was a child'. The border between childhood and adulthood as it appears in 'Wings of Desire', 'Persepolis' and 'Lost in Translation''
'Fighting against Loneliness in the Crowd: Noriko in 'Tokyo Story' and Chieko in 'Babel''
'Ozu's Mono no aware'
'The Camera in 'Tokyo Story''
References to Yasuhiro Ozu's 'Tokyo Story' - a deliberately non-European or American choice - are particularly relevant and serve as a riposte to any discussion about western acculturation or deficit model thinking vis-à-vis Pacific Rim or Confucian Heritage Culture students as, in its depiction of post-war family life in Tokyo, allied to such aesthetic aspects as the fixed 'tatami mat' positioning of the camera and the poetically Zen elements of wabi sabi and mono no aware, the film provides a fruitful platform for cultural exchange, an opportunity for a deferral to the knowledge and experience of Pacific Rim students.
Transferability: Overcoming the blocks to writing in the studio context
A high point was the tutorial in terms of the film writing. Simon would leave the content as our own thinking untouched and help in revising the tense, wordings and vocabulary which gave me enough confidence to develop my own ideas in writing but put attention on the linguistic, communicative or expressive forms …
The cycle of the week – viewing, discussion, reading, making notes, writing, editing and getting tutorial feedback establishes an early rhythm, one in which students, in the main, become less self-conscious of their perceived limitations in writing and embrace the experiential and experimental modes that are encouraged. This emphasis on the exploratory over the essay-style argument is particularly relevant to the A&D and studio context – one in which we, both tutor and student, are perhaps more concerned with opening up than closing down.
It's hard to think now about the first week but I feel that since the beginning of the course we have been permitted to write from other points of view using more creativity than academic English…
The process involves having my own thoughts first and then using quotation from the texts to support this aspect. It gradually built up my own way of writing and philosophy of thinking as well…
Concluding comments
One student in this year's course feedback on City Visions talked about his experience of its 'intense and productive match', i.e. the engagement of students from different studio backgrounds, cultures and language communities with the programme's content. Another student volunteered that it was a space for students to 'confront our ideas and observe the diversity'. For yet another, it allowed for a '...playing with the stereotypes and different cultures, the open subject and the psychology of the characters compared to ours.' I interpret such comments positively for they seem indicative of a rich learning experience that John Biggs calls relational and extended modes of engagement that is, 'deep' as opposed to 'surface' (qualitative rather than quantitative) teaching and learning in his taxonomic 'structure of the observed learning outcomes' (SOLO) (Biggs, 2006, 48).
Though the context for this case study has been EAP in post-graduate art and design, this is a model of teaching and learning that can be applied to the wider sphere. Indeed, the overall ethos informs how I use film as a contextual studies lecturer elsewhere. The emphasis on experiential, experimental and multi-layered writing, for example, can feed into reflective journals, student diaries and sketchbooks, as well as illuminating the problematic area – often misunderstood by students and academic staff alike - of when the subjective 'I' of experience can find its place in the essay or dissertation. Importantly too, it allows students to draw upon their own creative resources such that they become active participants in an equal exchange, one that often feeds back, however indirectly, into practice.
Biography
Simon King is an English for Academic Purposes tutor providing inter-disciplinary content related workshops and tutorials at the Royal College of Art. Elsewhere, Simon lectures in Contextual and Historical Studies and is a dissertation supervisor in the Faculties of Media and Design at London College of Communication. He also lectures in Contextual Studies at Central Saint Martins. His first degree is in Social Sciences and he has an MA in Radio from Goldsmiths. As a media practitioner, Simon has worked as a radio producer and presenter and more recently in independent production voice-over. He is a founder member of Cinetopia, a pop-up cinema with a mystery movie and quiz format based in south London.
Contact information
simon.king@rca.ac.uk , simdking@btinternet.com
Telephone: 020 7590 4543
References
Biggs, J. (2006) 'Setting the stage for effective teaching', Teaching for Quality Learning at University, Open University Press.
Clarke, D. B. (Ed.) (1997) The Cinematic City, Routledge.
Edwards, H. and Elder, H (2002) 'Writing PAD: Bladerunner: A Case Study', http://www.writing-pad.ac.uk/index.php?path=photos/21_Resources/05_Case%20Studies/&keyword=EAP. Date accessed unknown.
Gadamer, H. G. (1976) Philosophical Hermeneutics, Berkeley, University of California.
Glasser, W. (1992) The quality school: Managing students without coercion, New York, Harper & Row.
Shiel, M. and Fitzmaurice, T. (Eds.) (2003), Screening the City, London, Verso.
Sontag, S. (1966) Against Interpretation & Other Essays, New York, Farrar, Straus & Giroux.
Listing photo: supplied by Simon King
Header photo: sourced from morgueFile.com
Simon King, Royal College of Art
brightONLINE student literary journal
24 Jan 2012