Working with Cultural Diversity in Higher Education - SEDA Special 28
Barbara E Thomas
Foster, M. (Editor) (2011), SEDA. .......... This SEDA (Staff and Educational Development Associates) Special publication deals specifically with cultural diversity and, while generic in context, offers a range of experiences on relevant issues within this agenda. The publication offers a useful source of evidence-based research into the experience and expectations of students from China and a...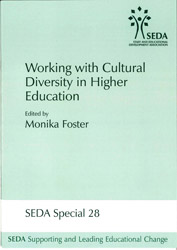 Editor: Monika Foster
Publisher: SEDA
Publication date: May 2011
ISBN: 978-1-902435-50-3
Price: £12.00
Introduction
This SEDA (Staff and Educational Development Associates) Special publication deals specifically with cultural diversity and, while generic in context, offers a range of experiences on relevant issues within this agenda. The publication offers a useful source of evidence-based research into the experience and expectations of students from China and India studying in UK HE (Scotland). What makes this particular publication useful are the combined voices of UK, Chinese and Indian Academics thus providing both the experience in the UK and the understanding of the cultural issues from the perspective of academics who live in and understand the culture of students from India and China.
It highlights the aim of informing 'the evolving conversation about diversity and inclusivity' for all our students and staff; not of simply changing the students but 'reviewing our practices and curricula' as part of responding to the wider social changes brought about by these diverse student groups.
Content
The publication starts with an introductory overview the aim of which is to develop the conversations about diversity and inclusion and focus on how this impacts on curriculum review and design. The contributors provide a reflective set of articles which deal with key aspects, namely: adjustment, induction, engagement, designing courses and teaching; and presents a key message about the importance of listening to international students and staff about the expectations of UK HE study. There is a focus on moving to an effective discussion around quality and inclusivity as opposed to the 'problems' of international students. Within this is a re-thinking around historical learning environments and a critical look at teaching practice and staff - student relationships.
The shape of inclusive teaching and learning is questioned and the importance of discussion, understanding and action highlighted. Examples of practices undertaken by the UK HEIs around orientation, integrated support, peer mentoring and community volunteering are shared. A set of guiding principles designed to help students develop a sense of belonging and inclusion prior to arriving in the UK are offered.
With four parts the publication has similarities threading the articles but it is useful to provide a separate overview particularly where the international perspective is provided.
Part 1 – Supporting induction and transition
Examples of transition approaches from three Scottish universities and from the perspective of different roles are shared. These include transition from HND/HNC courses to the more academic university degree and the challenges of adjustment, learning styles and student integration. To support the development of research and academic writing skills transition, visits were developed to bridge the college and university experience and included jargon busting, assessment and the development of independent learning and confidence.
The Academic Support Adviser role as a 1:1 advocate was key in helping students ask questions, participate in discussion and to bridge the academic/support context. Pre-arrival resources helped assist in transition and allowed more interaction and relationship building. Early results indicate a more positive attitude to participation in this way.
Part 2 - Teaching on culturally diverse programmes
The challenges of re-thinking the process of developing academic skills and reflection through implementing cognitive learning styles to develop the students' participatory skills for a new learning environment are discussed. This includes discussion around the management of plagiarism through promoting scholarship around criticality, using sources and focusing on structure and language. Facilitative techniques are introduced with post-graduate students around group and individual working to help with integration, collaborative work and critical reflective analysis. The clear message is about embracing and celebrating cultural diversity of peers.
The impact of the student experience from India on curriculum design and support is discussed. For many Indian students the challenge of moving from a disciplined educational setting to the UK environment should not be underestimated. Evolving joint practices to enhance that experience have resulted in the implementation of particular support mechanisms for students before and after joining programmes. Fostering diverse perspectives and working positively with international partners and providing appropriate staff development are also highlighted.
Part 3 – Examining the experience of Chinese students
The demand for quality global education in HE systems where there is little understanding of the students' home education is not uncommon and here we begin to see perspectives based on the tracking of expectations before entering UK HE. UK educators are provided with the knowledge to address the diverse academic and social needs of Chinese students. The challenges of culture shock, loneliness, isolation, disappointment and the academic pressures at the start of their study has led to some concern about the lack of preparation for these students in terms of courses and particularly articulation of academic language. Positive experiences come from clear guidance and mutual efforts from staff and students to understand the different cultures.
Online networking is described as a positive step in providing more academic help for students. Motivating Chinese students to speak is another challenge and which requires staff and students to take a role in supporting this. For UK staff this means embedding new pedagogic approaches and re-thinking learning and teaching strategies including clarifying what the norm of 'good' students means in the UK, developing critical and independent learning skills and improving presentation skills. For Chinese students this is about moving away from task-oriented preparation, thinking positively about oral tasks and asking for help.
Practical suggestions are highlighted around networks and collaboration to support equal learning and developing a harmonious learning community. The issues around assessment, referencing, critical thinking and problem solving in an educational tradition focused on independent learning requires adjustment by these students.
Part 4 - Enhancing the Indian student experience
With education the impetus for social growth in India the main system is about elevation of status which is enhanced by international education. Academics need to understand the implications of this on learning and expose students to different types of assessment. The sandwich year helps the understanding of theory/practice links in relation to industry and the need for professional graduates.
Peer exchange programmes (mentoring) have supported CV development and technology is enhancing the quality of education and internationalisation of the education system in India, helping students move away from a traditional, state led education and supporting the skills of team building, communication, critical analysis and cross-cultural relations.
The protective environment of pre-entry Indian students means that they sometimes lack experience in practical issues and the challenges of independent study. Preparation to change outlooks to the 'real world' and to understand industry requirements is started earlier through developing research skills, events organisation and participation.
Introducing these global higher education trends around skills and tasks supports the development of employable graduates and emerging subjects are developing research, critical thinking and discourse into the traditional curriculum. Partnerships and exchanges with the UK and USA are helping to make positive changes and these apply to staff and students. The long-term links from these partnerships are creating enhanced learning experiences for the students.
Summary
This publication about practical approaches, underpinned by research and relevant literature, is directly linked to the different aspects of the international student experience. While generic in its discipline context, it provides a useful insight into managing the learning experience of international students and, in particular, into the work undertaken around transition, induction and skills to support the move into the more independent academic learning environment of UK HE.


Reviewer
Barbara E. Thomas is a Higher Education Consultant.
Barbara E Thomas
brightONLINE student literary journal
24 Jan 2012