10 Chia Yun Hsieh
University of Brighton Faculty of Arts Student magazine article.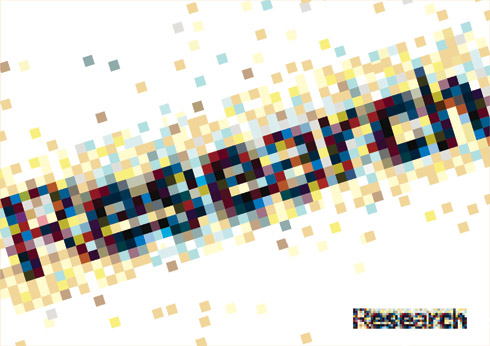 Learning experiences in art, design and media are not only focusing on my own field, art and design. It can be music, culture, fashion, science, sport, food… and so on. Indeed, it is about knowing a little about a lot and trying to get comprehensive knowledge about this world. For example, if you want to design an image for a sport event, you will need to do visual research associated with sport in order to achieve a good sense of locomotion and movement. If you are designing a brand for a supermarket, you need to do research about supermarkets, branding, and food. In fact, research pushes us to ask more questions and we will have a better understanding of what we are going to do next.
In this graphic, each square represents a different field of study. You cannot tell the word, "Research" when you get a closer look. All you see is different coloured squares. You need to stand back to get a bigger picture and view. Learning experiences in art, design and media are not only reflecting creative fields but also a comprehensive study of many things. Therefore, you do not only focus on one thing. It is about continuous research of diverse areas.
Chia Yun Hsieh
Communication Design
Kingston University
brightONLINE student literary journal
23 Apr 2012