6 Tamsin Devereux and Rebecca Field
University of Brighton Faculty of Arts Student magazine article.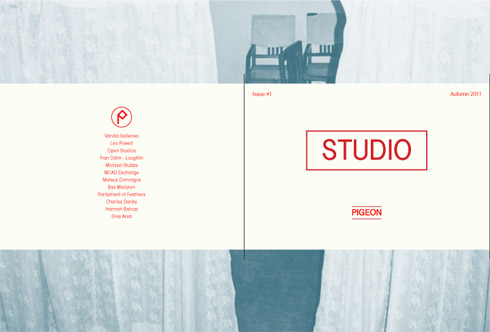 (click on the image to open Pigeon Issue One)
Pigeon is a collaborative, curatorial practice intended to provide a critical arts platform addressing students, generated by us as student editors and investigating contemporary art issues highlighted and enabled to us by our experience of higher education.
As a collaboratively formed and submitted practice between two students, pigeon offers an alternative approach to the way in which most BA Fine Art courses are structured. If considering that the project offers a form of dialogue amongst students, rather than the top down teaching that is more general at BA, this method of learning through ongoing discourse can be seen as an approach to offering a complimentary model of art education.
Wishing to demystify aspects of our art education as students, and the art market that we will soon enter, we ask the questions in the forefront of our minds, encompassing discussion and debate between others and ourselves as a method of research. The emphasis on showcasing opinions and ideas instigated by students, as opposed to showcasing realized and resolved art works, leads to a selection of visual and written articles that can delve deeper into the given topic and allowing the viewer to consider and reconsider the subject more extensively.
Rebecca Field and Tamsin Devereux
Critical Fine Art Practice
University of Brighton
brightONLINE student literary journal
23 Apr 2012