Waste In Action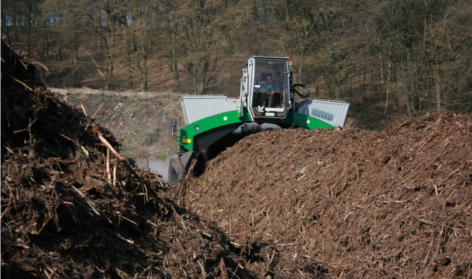 Visit of the compost facility
The University of Brighton in partnership with CNFPT, East Sussex County Council, SMEDAR and Improvement Efficiency South East are currently running an Interreg IVa funded cross border training course for local authority waste managers. This ambitious project aims to:

Increase local authority officers knowledge of waste management
An opportunity to share ideas and develop links with fellow professionals either side of the channel
Give officers an opportunity to work on an applied project with fellow officers that could assist their local authority
The 2009 class included 24 waste managers from the Interreg IVa region attended a week of training in Rouen and a week in Brighton and worked on cross border projects which they presented in Paris in September. Both training week included a a series of seminars, site visits and guest talks and the initative presents an excellent opportunity for officers to increase their knowledge and develop new skills. Examples of projects included comparing the management of food waste in England and France, developing good practice guidelines for local authorities to develop websites and innovation in communication campaigns.
We will be running a further course in 2010 - participants will again work on group projects which they will be invited to present in Paris in late 2010/early 2011. Officers are expected to commit 22 days to the initiative (10 days attending the training, 10 days working on their projects and 2 days for the presentations in Paris). Please note the deadline for signing upto the course has now passed.
Please note that the course is only open to officers from the Interreg IVa area and adjacent regions (see below); Cornwall and Isle of Scily, Plymouth, Devon, Somerset, Dorset, Bournemouth and Poole, Wiltshire, Hampshire, Southampton, Portsmouth, Isle of Wight, Surrey, West Sussex, East Sussex, Brighton & Hove City, Kent, Thurrock, Medway, Southend-on-Sea, Essex, Suffolk, Norfolk, Cambridgeshire.
The course is accredited by the Chartered Institution of Wastes Management and provides ten days towards the Institution's Graduate Structured Learning & Development Programme, or 70 hours of Continuing Professional Development.
For more information please contact Ryan Woodard at the University of Brighton
email: rw95@brighton.ac.uk
phone: 01273 642391.

For more information on the Waste in Action programme please visit the project website