Waste Prevention Advisors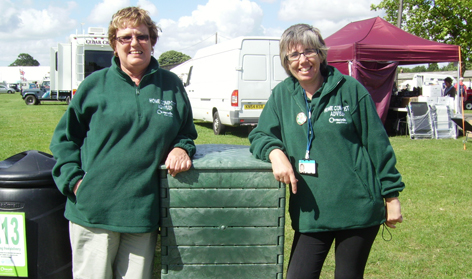 WPAs Sue and Julie advising on composting
Local authorities throughout England are looking at initiatives to reduce the amount of waste that is sent to landfill. West Sussex County Council is a leading authority promoting waste prevention including initiatives on home composting, food waste, real nappies and smart shopping.
West Sussex County Council has developed the award winning Waste Prevention Advisor project in partnership with the Waste & Energy Research Group (WERG) at the University of Brighton and the district and borough councils in West Sussex. The aim of the initiative is to train members of the community to help promote waste prevention throughout West Sussex.
A dedicated 30 hour training course on waste prevention has been developed which is free for members of the public to attend. The course includes sessions on waste management development in the UK, local strategies, reasons for waste prevention, home composting, food waste problems and solutions, nappies and communications.
The training is interactive and includes site visits, practical sessions and guest speakers. Since the initiative started in late 2006, volunteers have been involved in over 300 projects including:
Helping at council roadshows and events;
Presentations to parish councils and numerous community groups;
Setting up communal composting schemes;
Interactive workshops with community groups;
Projects in schools and youth groups;
Stands at farmers markets;
Talks to parent groups about nappies;
Helping businesses manage their waste.
The first course was held in September 2006 in Lancing with subsequent courses in Brighton, Goring, Crawley, Horsham, Haywards Heath, Chichester, Littlehampton and Worthing. There are now over 60 volunteers actively promoting waste prevention in West Sussex. We will be running the following courses in 2011:
Crawley - being held at the Crawley Council for Voluntary Services (CCVS), starting Tuesday 18th January 2011 for 10 weeks from 6:00-9:00pm;
Littlehampton - being held at Dove Lodge, starting Thursday 20th January 2011 for 10 weeks from 6:00-9:00pm.
The project is managed by Better Tomorrows on behalf of West Sussex County Council. Find out more on the project website. To apply please contact Better Tomorrows on 01243 642106 or info@bettertomorrows.org.uk
Please note that the initiative is only available to West Sussex residents and all volunteers will need to complete a Criminal Records Bureau check.