Permaculture Design and Green Roofs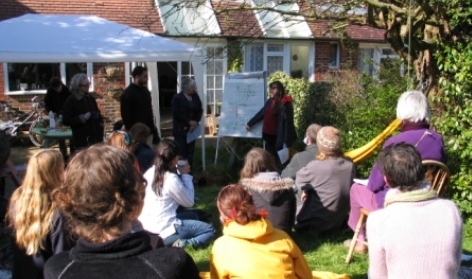 Learning ways to reconnect with the natural environment
Project participants: Dr. Jonathan Chapman, Ulrika Jarl, Deirdre Woods, Peter Bentley, Thomas Daniell, Michael Lindsay, Lizzie Lee, Rebecca Thewalis, Woo Jin Kim, Marcos Vallejo, Elena Paikkou, Vitit Chaisumritchok, Jennifer Patacchini
We are a group of students at the University of Brighton, Faculty of Arts, who are studying on the MA Sustainable Design course. Our proposed project is to attend the two short courses outlined below, and through this develop an ongoing learning and teaching space that embodies both the principles and ethos of sustainability and sustains and reflects the learning we will undertake within this proposal.
'Introduction to Permaculture Design' will offer information and hands-on experience of the fundamental principles permaculture design and designing for sustainability, more broadly. Whether interests are in farming, planning, building homes, community work, economic regeneration, business or green lifestyles, the application of 'permaculture' principles allows participants to make a positive contribution towards a sustainable future, whilst situating individuals within a position of influence and empowerment.
The course will enable us to apply permaculture principles in our individual circumstances to help move towards sustainability and provide a framework to facilitate the development of our work, and that of other students using the Grand Parade campus.
The 'Green roofs' course will enable participants to learn about green roofs and their benefits. The creation of wildlife habitats including local ecologies, the growing of food on green roofs, and the selection and purchase of suitable plants and substrates to be used will be covered, as will the availability of all the materials. The course includes a practical session on the construction of a green roof, which can be applied to timber structures. Normally each participant will finish the course with a 'sample roof' to take away with them to serve as a physical reminder of how the roof was built. However, after talking to the organizers we have enquired with the University and are keen to create a green roof within the 'Quad area' at Grand Parade, as a permanent example of the course and a permanent demonstrator of our learning, whilst also providing a living, participatory teaching and learning experience, as a result. This we feel would be a much more sustainable option than making 'sample roofs', and will capitalize on the learning process of the course, in addition to making its findings sharable and transferable among the wider Grand Parade community. We have spoken to the Dean, Anne Boddington, who is supportive of the projects, and discussed suitable roofs where a green roof can be built.
The project will tell us much about the underpinning ecological issues in our chosen area of study, and since the issue of global warming, peak-oil and peak-materials is something that are effecting all of us, it is a worthwhile project to set us as individuals within a large institution on the right track towards localization and self-sufficiency. It is also proposed here that this project will grow further (following the funding period) leading to collaboration with Transition Town Brighton & Hove as well as other permaculture student groups at other universities. The knowledge acquired will impact on a whole range of different projects during the course and beyond.