Home » Projects archive » CETLD » Exploring technology's place in design learning and teaching » Learning Capsules
Learning Capsules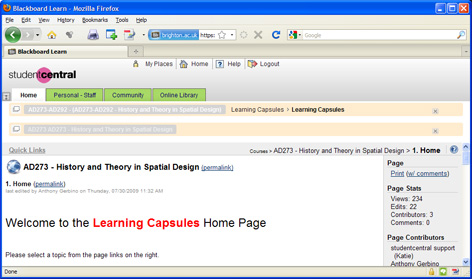 A Web-Based Learning Resource for Undergraduate Architecture Students
Dr Irena Murray, RIBA British Architectural Library,
Dr Anthony Gerbino, Worcester College, Oxford & University of Brighton
This project aims to provide a web-based learning resource, initially for the use of UoB undergraduate architecture students and potentially more broadly. It consists of individually authored essays on a range of topics in architectural history and theory, ranging from historical concepts, design strategies, traditions and sites in world architecture, to discussion of discrete building typologies and architectural elements.
The capsules are intended as a tool for the initial stages of student research projects, which often begin with cursory web searches. The content and character of the essays, however, are to be distinguished from those of similar resources such as Wikipedia, in that they are not written in the authoritative, sovereign mode of an encyclopedia or reference work, but are rather marked by the author's individual interpretation and approach to the material.
Although carefully documented, well-illustrated, and clearly written, the capsules are also intended to be idiosyncratic and provocative. In this respect, they serve at least three basic objectives: to introduce design students to the conventions and standards of academic, short-form writing, to offer preliminary bibliographical references and avenues for further research on an array of topics, and finally, to stimulate creative, personal ways of thinking about architectural history and theory.
The initial complement of fifty-two capsules will be supplemented over time. As with other web-based, open-platform resources, there is no top-down attempt to systematize the topics or to impose uniformity of coverage. The content is, rather, to be generated from 'below' by users/students in a self-sustaining and continually expanding feedback loop. It is envisaged that the site will be administered by dedicated staff of the BAL, which will also be responsible for approving new submissions and maintaining editorial standards.