Home » Projects archive » CETLD » Speaking and writing the visual » From Sketch to Product
From Sketch to Product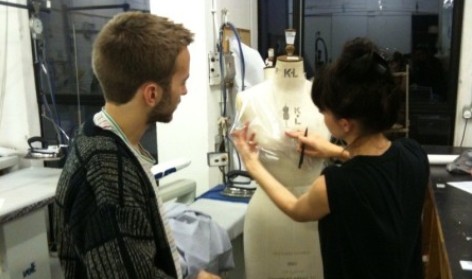 Adding a new dimension to the learning experience by exploring the design process from initial concept through to production and marketing
Project leaders: Glenn Adamson, History of Design, RCA and Tristan Webber, Womenswear, RCA
Drawing upon the V&A's design drawings collection, this project aims to add a new dimension to the learning experience by exploring the design process from initial concept through to production and marketing. Two RCA tutors (Glenn Adamson, History of Design and Tristan Webber, Womenswear) are collaboratively investigating the V&A's design drawings - from both a theory-based and a practice-based perspective.
| | |
| --- | --- |
| Students discuss the design process part one | |
| Students discuss the design process part two | |
| Students discuss the design process part three | |
Material examined thoroughly explores the full range of the design process - from preparatory sketches through to technical drawings, final presentation drawings and maquettes/models. It is hoped that the project will create new relationships between the V&A and the RCA, and will also bring cohorts of students and tutors together, from disparate departments at the RCA – creating new avenues for future research and collaborative projects.
The main outcome for the project is a descriptive, richly-illustrated blog, detailing the narratives explored by the two tutors and their respective students:
http://www.vam.ac.uk/things-to-do/blogs/sketch-product/home
It is hoped this blog will provide a future resource for tutors and students at the RCA, opening up access to the V&A's extensive drawings collection.