Home » Projects archive » Waste and Energy Research Group » Local Authorities » Green Cones
Green Cones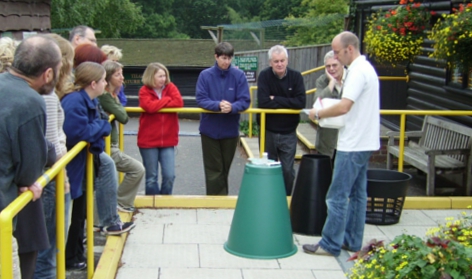 Green Cone Pilot Project, 2003
In 2002 Sainsburys, West Sussex County Council and Green Cone ran a promotion of the Green Cone waste digester at Sainsburys stores throughout West Sussex. During this period 2,120 Green Cones were sold in just 8 weeks with University of Brighton students assisting in the promotion.

WERG, along with West Sussex County Council conducted a product trial for the Green Cone as part of the council's overall Waste Strategy for reducing wastes generated by households. Research investigated the perceptions of the product promotion, user motivations, initial satisfaction levels and end user demographic profiles. Questionnaire surveys were conducted and a sample a households were asked to weigh quantities of waste that they were diverting into their Green Cone. Key findings included:
88% of those buying the Green Cone did so as they were concerned about waste
78% of those purchasing the digester also recycled whilst
67% composted
91% of users placed cooked food in their digester with fruit, vegetable matter and bones/meat also frequently being placed in the cone
60% had seen a reduction of 25-50% in the quantity of waste that they set out for collection
Weight surveys showed that 2.7 kg/week per household were being diverted into the Green cone
Green Cone Project, West Sussex, 2005
Following the initial Green Cone project in 2002, West Sussex County Council received funding from DEFRA in 2005 to promote the digester throughout the County.
WERG worked in partnership with the council to evaluate the effectiveness of the Green Cone. This included conducting questionnaire surveys, weighing the bins of Green Cone users to assess if there has been a reduction in the quantities of waste that householders generate and waste analysis to assess changes in the biodegradable fraction in the waste stream. Research showed that Green Cone users set out 1.7kg less waste than the control group following the installation of the Green Cone.